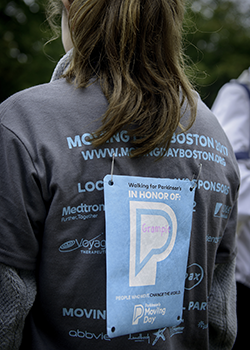 I made a personal donation!
I earned a Moving Day T-shirt!
$2,500 Level Fundraiser
Event:
Dear Friends and Family
On October 27, 2018 the Parkinson's Foundation will be hosting a MOVING DAY ATLANTA event in Piedmont Park to raise funds for Parkinson's research. The Brown and the Hyde families are proud to be participating and will be sponsoring our own team, The Atlanta Movers and Shakers. In addition to a one mile walk, there will be a variety of activities to participate in like yoga, dance, pilates, Taichi and boxing. Bob has shined up his walking sticks, so come join us.
My daughter, Susan, and I have both set up a fund raising goal under the "the Atlanta Movers and Shakers Team." Susan's goal is $7500 and mine is a little more humble at $500.00 I hope you will consider a small donation to aid in this worthy cause and try to join us for Moving Day Atlanta.
I am sure you all know that Bob has been living with Parkinson's for 18 years. What you might not know is that Susan was also diagnosed with Parkinson's last year at the age of 51. They are both my special heros in the courageous way they are dealing with this disease. While our family has been fortunate with good healthcare and the support of family and friends, we are not satisfied with the pace of finding a cure! Supporting Moving Day Atlanta is a step in the right direction. Thanks, Kaye
Honor Roll
Cindy Guest & Bill Orcutt