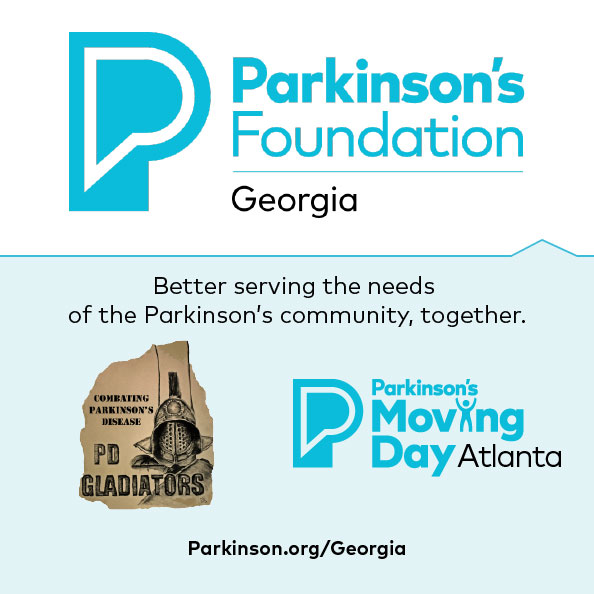 $2,500 Team Champion Level
Event:
Welcome to our PD Gladiators Moving Day® Team! PD Gladiators has merged into the Parkinson's Foundation effective August 1! The PD Gladiators Metro Atlanta Fitness Network is now being operated by Parkinson's Foundation Georgia, which will continue to maintain and expand our schedule of over 60 weekly fitness classes adapted for people with PD. We will also continue to educate doctors and patients about the scientific research showing the benefits of vigorous and varied exercise on PD and will expand our efforts to help people with Parkinson's overcome barriers to designing and sustaining a safe, fun and effective exercise regimen. We are thrilled to be part of the Parkinson's Foundation family and believe we can do more to help people with Parkinson's disease together than we could separately. Your donations to the Moving Day Walk will help benefit PD Gladiators exercise programs and other great educational and social events!
In the United States, 50,000-60,000 new cases of Parkinson's disease (PD) are diagnosed each year, adding to the one million people who currently have PD.
Join our team for the local Parkinson's Foundation Moving Day walk, the first nationwide grassroots campaign that spotlights the disease on a national level and gives the chance to raise awareness and funds in our own community. Your support will help us continue improving the quality of care for those living with Parkinson's disease.
– To become a member of our team please select the 'Join The Team' button at the top or bottom of the page.
– To donate or visit a team members personal page please select from the 'Team Members' list at the bottom of the page.
Thank you for supporting us and the vital work of the Parkinson's Foundation.
Team Members
Please select a team member below to make a donation to this team. If you would like to make a general donation to the team, contact us.
Honor Roll
Dr. Alvin Siegel and Mrs. Dorene Siegel
Larry & Jacqueline Bullard