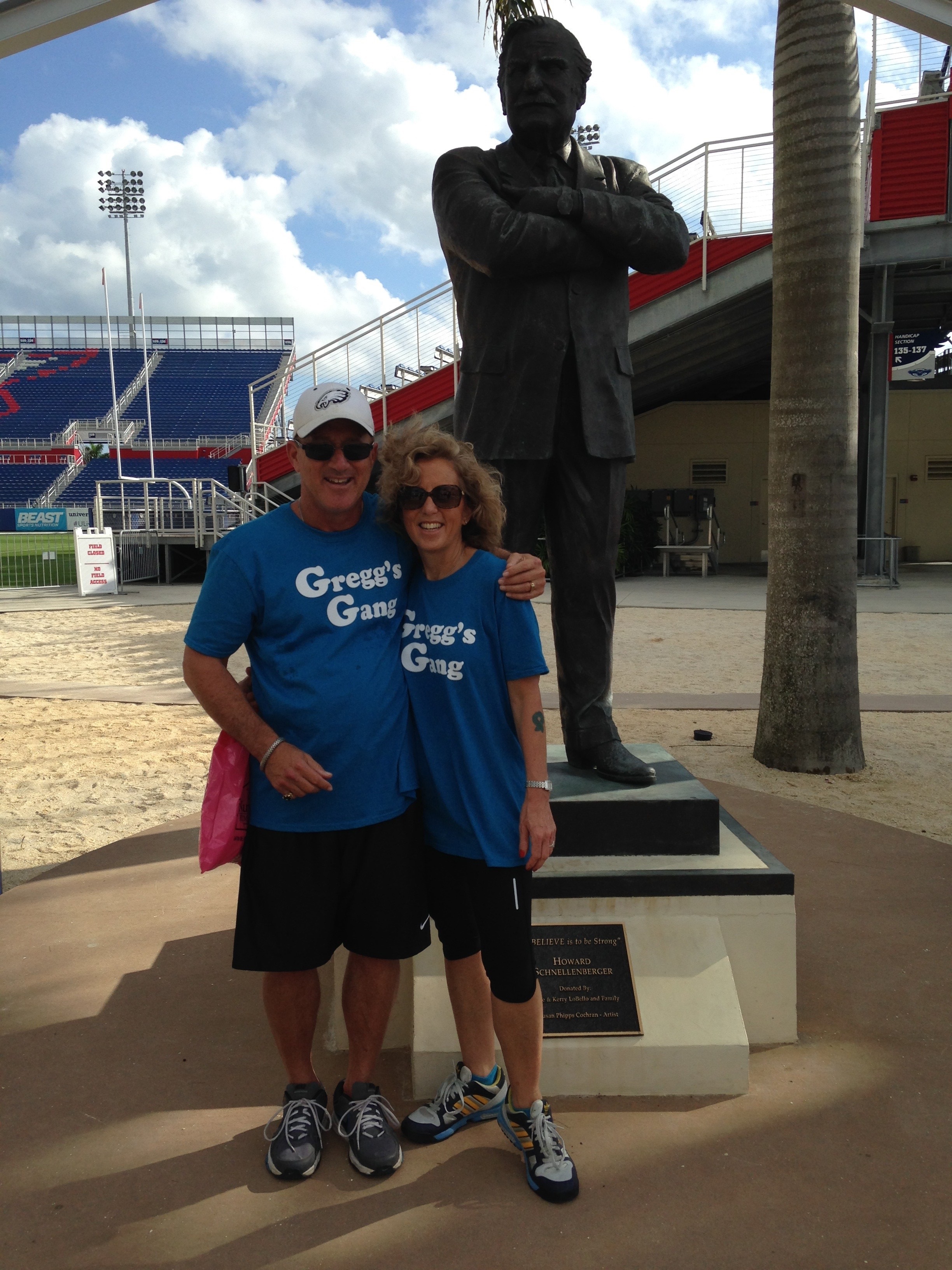 Team Captain
I made a personal donation!
I earned a Moving Day T-shirt!
$1,000 Level Fundraiser
Event:
My Dear Family and Friends,
Thank you for coming on to the Gregg's Gang Team Site and clicking on to my Personal Page.
I, and all of the members of our team, will be participating in Moving Day Boca Raton, benefiting the Parkinson's Foundation South Palm Beach County Chapter, on Sunday, November 4, 2018 at Florida Atlantic University Stadium.
We will be walking in honor of Gregg and all of those who are stricken with Parkinson's Disease. We will be walking to raise awareness and donations that will go towards funding the National Parkinson's Foundation, South Palm Beach County.
The event will be a fun-filled, family-friendly event for all ages and abilities. We will be able to enjoy a variety of movement activities like yoga, dance, Pilates, Tai Chi, boxing, stretching and much more and celebrate the importance of movement in our lives.
Gregg himself plans to be representing Movement Centers of South Palm Beach County in a boxing demonstration to show the benefit of movement and exercise for those stricken with Parkinson's Disease.
Gregg has had a challenging year but is working hard to prevent this debilitating illness from slowing him down. Each and every day he shows me what it means to be strong and I am so proud to be by his side and call him my husband.
Please consider being a part of our team and then begin actively seeking out donations from your friends, family and coworkers as you walk with us, Gregg's Gang, on Moving Day. If you are unable to join our team on November 4th please consider sponsoring me a I walk for Gregg's Gang.
Why Move for Moving Day?
Did you know that someone is diagnosed with Parkinson's disease every 9 minutes in the United States? No one should have to face Parkinson's alone. That is why the Parkinson's Foundation provides a community of support to give people the resources and help they need to live well with Parkinson's.
Support our mission to help every person diagnosed with Parkinson's live their best possible life now. Your gift will help us fund better research, better treatment and better lives.
Thank you for helping me reach my fundraising goal to support the vital work of the Parkinson's Foundation.
I appreciate your caring from the bottom of my heart.
Thank you, Cindy 😊👍
Honor Roll
Carey & Lauren Sobel and the 321 Team
Judy Algaze/Charlie Mochan
paul and barbara silverman
Barbara n Marvin Smulowitz
Ronald R &Melissa Friedman
Jeffrey Sarrow and Judith Horowitz