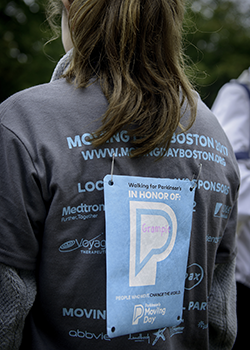 I made a personal donation!
I earned a Moving Day T-shirt!
$1,000 Level Fundraiser
Event:
Hello to all my Dear Family and Friends,
I am Gregg from Gregg's Gang!
We are once again participating in Moving Day® Boca Raton, benefiting the Parkinson's Foundation South Palm Beach County Chapter, on Sunday, November 4, 2018 at Florida Atlantic University Stadium.
This is personal to me as I was striken with PD 6 years ago. At first I refused to believe what was happening to me. As routine things become less routine and I had to figure out how to live with this debilitating illness I became immersed in the world of Parkinson's Disease.
The work we do for the National Parkinson's Foundation is not for me it's for our children.
This disease preys upon people from all walks of life, it has no preference between rich or poor and it specifically chooses to strike the JEWISH' population at a higher rate than any other.
With the money we raise we can help fund research and help to provide in our community services to those who can't afford it.
I humbly ask you to dig deep in your pockets and donate to this worthy cause. I thank you for the support that we have gotten from you in the past years and hope that we can count on you for this year as well as future years to come.
The event will be a fun-filled, family-friendly event for all ages and abilities. We will be able to enjoy a variety of movement activities like yoga, dance, Pilates, Tai Chi, boxing, stretching and much more and celebrate the importance of movement in our lives.
Please consider being a part of my team, Gregg's Gang, on Sunday, November 4th.
If you can't be with us, please sponsor me with a donation as I walk to raise awareness and funding to further research towards better medications and programs for those stricken with this horrific and progressive disease.
To take it one step further I encourage you to get your friends, family and coworkers involved.
Thank you for helping us to reach our fundraising goal in support of the vital work of the National Parkinson's Foundation.
Why Move for Moving Day?
Did you know that someone is diagnosed with Parkinson's disease every 9 minutes in the United States? No one should have to face Parkinson's alone. That is why the Parkinson's Foundation provides a community of support to give people the resources and help they need to live well with Parkinson's.
Support our mission to help every person diagnosed with Parkinson's live their best possible life now. Your gift will help us fund better research, better treatment and better lives.
Your support is truly appreciated and won't be forgotten!
With sincere gratitude, Gregg
GO GREGG's GANG!!
Honor Roll
Steven and Barbara silver
Anthony and Stacy Valenti
Eileen & Matthew Goldstein