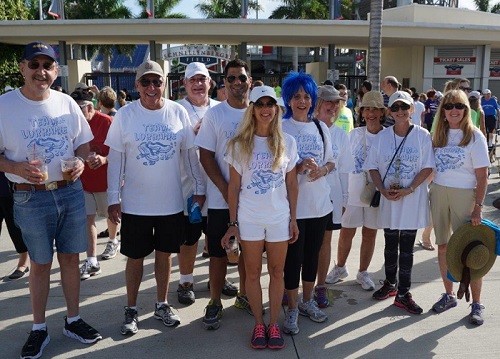 $10,000 Team Champion Level
Event:
Dear Friends and Family:
Welcome to TEAM LORRAINE'S page. Once again Steve and I are asking you to join TEAM LORRAINE to collect donations on the team's behalf for this most important fundraiser for Parkinson's Foundation Moving Day Boca Raton.
This will be the third year TEAM LORRAINE will participate in Moving Day. We need your continued support. Last year TEAM LORRAINE was one of the top three fundraising teams. Let's do it again.
T – together
E – everyone
A – achieves
M – more
Moving Day is a fun-filled family friendly event for all ages and abilities to raise money for Parkinson's Foundation South Palm Beach County Chapter. It is a celebration of movement. With your support, we can continue to help the foundation's mission to improve the quality for those living with Parkinson's through research, education and outreach.
As for me, I have become more active in the chapter. I attend classes several times a week. The funds raised by the South Palm Beach Chapter provide these classes and lectures that greatly improve the lives those of us afflicted with Parkinson's disease at no cost.
Please support TEAM LORRAINE by helping with donations from you, your family & friends as you walk with us on Moving Day Sunday, November 5, 2017 at FAU Stadium in Boca Raton.
If you can't participate in person, please show you care by clicking the button to donate to TEAM LORRAINE.
Thank you for your continued love, support and friendship.
Lorraine Sanders
TEAM LORRAINE
Team Members
Please select a team member below to make a donation to this team. If you would like to make a general donation to the team, contact us.
Honor Roll
Karen and Peter Gerstenzang
Michail & Utarefson, Inc.
Law Offices of Russ E. Robbins, P.A.
Laurence and Josephine Prince
Lindsy, Jason, Morgan & Jessica
Yoga, Meditation, Massage and Food Based Healing with Kim
Johnnie and Debra Edwards