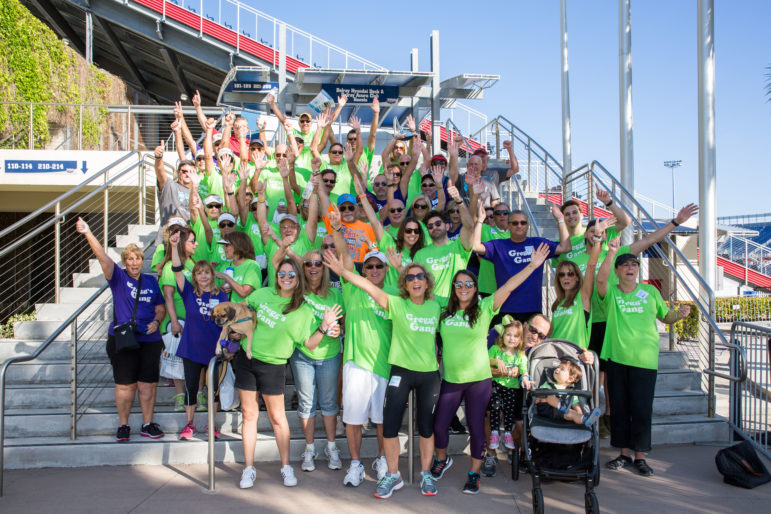 $20,000 Team Champion Level
Event:
Welcome to the Gregg's Gang Moving Day® Team Page!
Gregg and I want to welcome you to our team page and encourage you to join Gregg's Gang and collect donations on our teams behalf for the National Parkinson's Foundation Boca Raton Moving Day Walk.
This is the 6th year that we will be walking and Gregg and I are excited to be kicking off our teams efforts to raise donations for this very important cause.
This has been a challenging year for Gregg but he has been working hard to prevent this debilitating illness from slowing him down. Each and every day Gregg shows me what it means to be strong and I am so proud to stand by his side and call him my husband.
In the United States, 50,000-60,000 new cases of Parkinson's disease (PD) are diagnosed each year, adding to the one million people who currently have PD.
Living each day is a challenge for those stricken with Parkinson's Disease and through the efforts of the National Parkinson's Foundation we hope to raise awareness and funding to help improve the quality of care for those living with this debilitating illness and hopefully, God willing, someday find a cure.
The Moving Day Boca Raton Walk is Sunday morning, November 4th at FAU stadium – details to follow.
Please consider joining our team, Gregg's Gang, for this years walk. It is the first nationwide grassroots campaign that spotlights the disease on a national level and gives everyone the chance to raise awareness and funding in their own community.
Your support and donations will go towards funding the much needed research into better treatments and medication as well as making therapeutic activities available to improve the quality of life for those struggling through each day with this horrific illness.
– To become a member of our team please select the 'Join The Team' button at the top or bottom of the page.
– To donate or visit a team members personal page please select from the 'Team Members' list at the bottom of the page.
Thank you for supporting us and the vital work of the Parkinson's Foundation.
Gregg and I appreciate your being there for us and thank you from the bottom of our heart, 💕Cindy
Team Members
Please select a team member below to make a donation to this team. If you would like to make a general donation to the team, contact us.
Honor Roll
Therma Seal Roof Systems, LLC
Carey & Lauren Sobel and the 321 Team
Jonathan, Melissa, Alayna and Julia
Nick Felicione Inc Pest Control
Sheila and Richie Isaacson
Steven and Barbara silver
Marcus & Ashley DeAngelis
Judy Algaze/Charlie Mochan
Cipora Brown and Steve Feiner
Rita Stein Schwartz and Victor Schwartz
Barbara n Marvin Smulowitz
Kevin Shkolnik & Yael Bortnick
Mike & Dina Howardpraying
paul and barbara silverman
Linda and James Filenbaum
Eileen & Matthew Goldstein
Anthony and Stacy Valenti
Beverly and Robert Glazer
Ronald R &Melissa Friedman
Jeffrey Sarrow and Judith Horowitz
Joanna Schmitz and Family