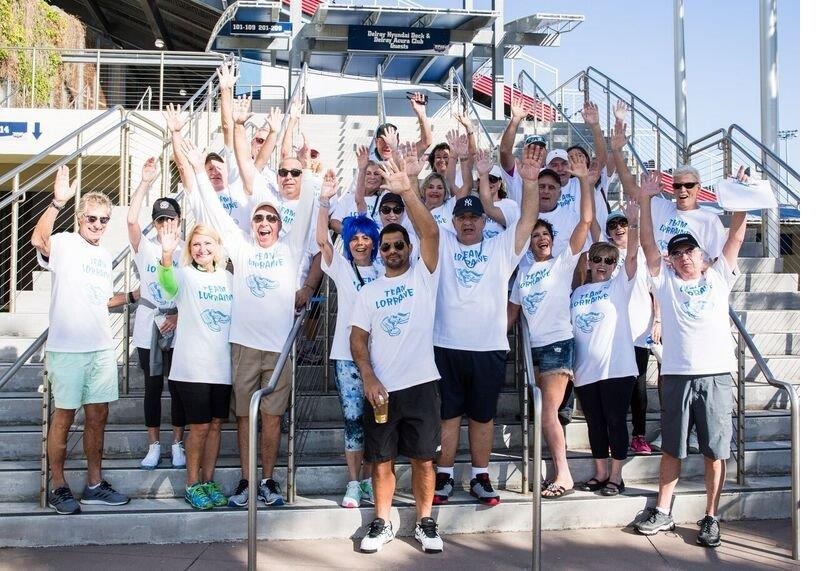 $20,000 Team Champion Level
Event:
Dear Friends, Family, and Newcomers:
We want to welcome back our returning TEAM LORRAINE members and invite all newcomers to join TEAM LORRAINE in our efforts to raise funds to make Parkinson's major fundraiser, MOVING DAY, a financial success.
This is the fourth year TEAM LORRAINE is participating in MOVING DAY. Last year we were the second top fundraising team. This year we are striving to be number one. I believe, if each team member recruits one person to donate, we can reach this goal.
"TOGETHER WE'RE STRONGER"
I continue to become more involved in the South Palm Beach County Chapter by serving on several committees. I now have the unofficial title of "Welcoming Committee". I attend classes several times a week in addition to educational lectures that are offered on topics of interest to the Parkinson's community. These classes that support those of us afflicted with Parkinson's, are all funded by donations from MOVING DAY. Steve has become more active in the foundation, serving on both the Advisory Board and Moving Day Committee.
MOVING DAY is a fun filled family friendly event to raise funds for the Parkinson's Foundation South Palm Beach County Chapter. With your support, we can continue its mission to improve the quality of life for those of us living with Parkinson's.
Please join TEAM LORRAINE and walk with us at MOVING DAY on Sunday, November 4th, 2018 at FAU Stadium in Boca Raton. If you can't walk alongside us, please show your support by clicking the link to donate to a member of TEAM LORRAINE.
Thank you for your continued love, support, and friendship
Lorraine Sanders
TEAM LORRAINE CAPTAIN
Please join my team and donate at MOVINGDAYWALK.ORG/TEAMLORRAINE
Team Members
Please select a team member below to make a donation to this team. If you would like to make a general donation to the team, contact us.
Honor Roll
The Fifteen Group Foundation
3G/'s Gourmet Deli & Restaurant
Palm Beach Orthopaedic Institute
David, Lee, Sydney and Julia
Happy Birthday Warren- Carolyn Weil
Britwirth Investment Company
Sevigne & Arnie Wilichinsky
Gilbert & Rosette Goldstein