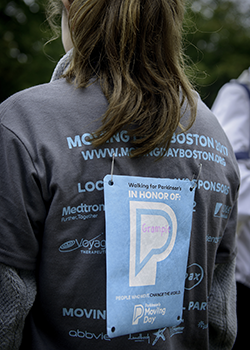 I made a personal donation!
I earned a Moving Day T-shirt!
$500 Level Fundraiser
Event:
Dear Friends and Family,
As most of you are aware, I was diagnosed with Parkinson's disease in 2017. Since that time the disease has progressed to the point where I had to make a decision and go part time at work. One of the key factors in me making this decision was the need to exercise as much as possible. If you talk to anyone with knowledge of this disease exercise is a key component in maintaining your quality of life. The team I am walking with is the "Rock Steady Boxing" program of Hamburg, New York.
So what is Parkinson's disease?? It is a degenerative movement disorder which can cause deterioration of motor skills, balance, speech and sensory function. The "Rock Steady Boxing" program is largely adapted from boxing drills which help with endurance, balance, hand and eye coordination, core strengthening and more.
I recently decided to participate in the Moving Day Buffalo event on Saturday, September 21, 2019 and need your help in achieving my fundraising goal. Make a "tax deductible" donation on my page to the Parkinson's Foundation Western New York Chapter which helps fund research and local programs for people with Parkinson's.
The walk will be a celebration of movement, with a special Movement Pavilion featuring yoga, dance and much more.
It will be a fun-filled, family-friendly event for all ages and abilities and will help raise money for the Parkinson's Foundation Western New York Chapter.
With your support we can help the foundation's mission to make life better for people living with Parkinson's disease through expert care and research. I know you understand the importance of an event that raises money for such an important cause.
No matter what you can afford, every dollar counts! So please make a donation on my behalf. Alternatively, if you would prefer, you can join my team or register as an individual.
Thank you so much for all of your support, and I look forward to seeing you at Moving Day on September 21. 2019.
Sincerely,
Kurt R. Covert