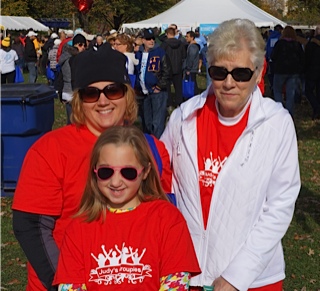 Team Captain
I made a personal donation!
I earned a Moving Day T-shirt!
Event:
It's hard to believe another year has passed and Moving Day Chicago is right around the corner. Sunday, October 14, 2018 will be here before we know it! Thank you for visiting my page…please continue reading to see why I get out and move in support of Moving Day Chicago!
Why I Move for Moving Day…
Did you know that someone is diagnosed with Parkinson's disease every 9 minutes in the United States?
For my stepmom Judy this diagnosis came over 10 years ago. I don't think at that moment anyone fully understood what that diagnosis meant. I know, as a family member, I sure didn't realize what those words meant. As the years have gone on, we have all learned what Parkinson's looks like, how it changes and what a Parkinson's diagnosis really means. We are still learning thanks to many people including the Parkinson's Foundation. They provide so many priceless resources not only to people who have Parkinson's, but also their families. The battlefield of Parkinson's is constantly changing. Medication is getting better, ways to lessen symptoms are being discovered and refined like DBS, research on how certain lifestyle changes can help fight Parkinson's are being shared and there is more information of what Parkinson's looks like as it progresses. The Parkinson's Foundation provides a community of support to give people the resources, help and information they need to live well with Parkinson's. The money raised by Moving Days across the nation help fund and support these resources and help.
I move for Moving Day Chicago because I want Judy to know that she is not alone in battle and that I stand with her.
I move for Moving Day Chicago because I want my Dad to know that he is not alone and he has support as he walks with Judy on her Parkinson's journey.
I move for Moving Day Chicago because knowledge is power and the more we have and the more we share the better life can be for people and their families that live daily with Parkinson's.
I move for Moving Day Chicago because I would like nothing more than to be able to post a letter on this site that a cure for Parkinson's has been found and the daily battle for everyone that suffers with Parkinson's has ended.
I move for Moving Day Chicago because even though the battle is hard, God sends rays of sunshine each and every day, never leaves us alone and battles every moment with us.
I move for Moving Day Chicago because someone I love needs a cure!
Please consider moving with me, monetarily supporting the cause of the Parkinson's Foundation and praying for a cure and peace & patience for those who battle.
Supporting the Parkinson's Foundation's mission helps every person diagnosed with Parkinson's live their best possible life now. Your gift will help them fund better research, better treatment and better lives.
I hope to see you moving at Moving Day Chicago in October!