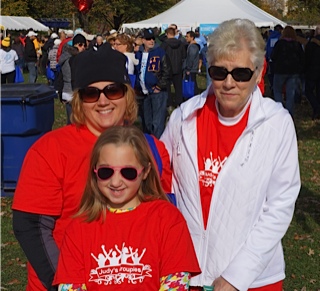 Team Captain
I earned a Moving Day® T-shirt!
Event:
For those of you who know Judy, what I write below will come as no surprise you already know what a fighter she is and how she makes the best of every day and trusts that God Almighty has her in His arms. For those of you who may not know Judy as well, I hope this gives you insight into why she is a lady that deserves to be celebrated and supported. We hope we can count on all of your help in doing so!
Judy continues to face Parkinson' s head on with a grace and determination that is admirable and a spirit that won' t be defeated. Judy also continues to trust God' s plan for her life as we do, but I think Judy would certainly agree with me when I say, some days, 'œlife is hard'. Even on 'œhard' days Judy runs errands, goes to her granddaughter Magen' s sports and music events, volunteers at her church, quilts and spends times with friends and family. She does not let Parkinson' s bring her down. She is a fighter even when 'œlife is hard' and honestly some days it would probably just be easier to sit in the house.
Judy' s statement doesn' t end at 'life is hard' though. Pam Thum summed it up best in the chorus of her song Life is Hard (God is Good). Life IS hard, but God IS indeed good. Judy seeks daily to see the good God is providing in her life, but also the good that God provides in the battle against Parkinson' s.
Strides are being made everyday in the battle against Parkinson' s. New exercise programs like boxing are being developed and becoming more accessible to help Parkinson' s patients with balance. New medicines are being researched and trials are being performed. Families are getting the support and information they need to best help and advocate for their loved ones. All of these strides are made possible by the prayers and donations of people all over just like you. So yes, life IS hard but God IS good in the many ways He provides relief, hope and love to Judy and the other people who battle Parkinson' s. Thank you for being part of the good!
I hope you will join us in celebrating the good and being part of the good that is yet to come by joining our Moving Day® Chicago team, benefiting the National Parkinson Foundation, on Sunday, October 15, 2017, at Lincoln Park, South Fields.
The event will be a fun-filled, family-friendly event for all ages and abilities. We will be able to enjoy a variety of movement activities yoga, dance, Pilates, Tai Chi, boxing, stretching and much more and celebrate the importance of movement in our lives.