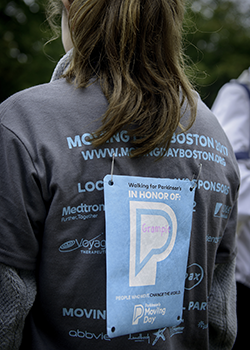 I made a personal donation!
I earned a Moving Day T-shirt!
Event:
Mark, Zoe and I are participating in Moving Day® Chicago, benefiting the Parkinson's Foundation Chicago, on Sunday, October 14, 2018, at Lincoln Park – South Fields.
We are walking with Todd's Team, whose namesake – Todd Johnson – is my good friend Lori Ann's super cool husband. Todd was diagnosed with Young Onset Parkinson's several years ago, and we join with him, Lori Ann, their two sweet kiddos and their friends and family to benefit the Parkinson's Foundation Chicago. Over the past five years, Todd's Team has continued to grow and has raised over $50,000 with the generous support of folks like you.
Did you know that someone is diagnosed with Parkinson's disease every 9 minutes in the United States? And as of yet, there is no cure. We are hopeful that with the generous contributions of folks like you, more people will get the support and resources they need now, and that one day soon we will find a cure.
Thank you for your consideration to support such a worthwhile cause…
Warmly,
Lea, Mark and Zoe
Honor Roll
Todd, LA, Griffin, & Annika