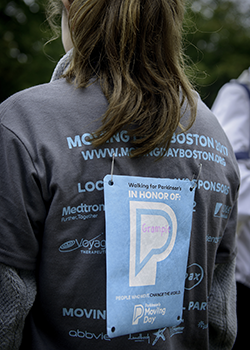 In August of 2008 I was diagnosed with Parkinson's disease. After 2 years of feeling sorry for myself I found a study where people with PD that are forced exercise on a stationary bike or treadmill reduced their symptoms by 35%. So I started peddling and worked my way up to 24 miles in 70 minutes. I average 20 to 25 days a month and last year I did just shy of 4,600 miles. It works, as my specialist says he sees no one that is as committed as I am. I will never give in to this disease and as it progresses I will work harder. Parkinson's had no idea who it was dealing with when it picked me. I have all the intentions to see all 3 of my boys get married and if I have any grandchildren I intend to watch them grow up and play baseball or whatever with them. Don't get me wrong this is the hardest thing I have ever had to do. I had to quit working six years ago and it has changed my life dramatically and I wouldn't be where I am today without my Family, Faith, Friends, and my doctor. So I say to PARKINSON'S BRING IT ON, I AM A FIGHTER NOT A QUITTER. I AM READY FOR ANYTHING YOU CAN THROW AT ME.
Thank you for reading my story and please consider supporting me as I walk for Parkinson's on October 15th in Chicago.
Support the Parkinson's Foundation's mission to help every person diagnosed with Parkinson's live their best possible life now. Your gift will help us fund better research, better treatment and better lives.
Honor Roll
Be the first to donate to Joe Leuck!