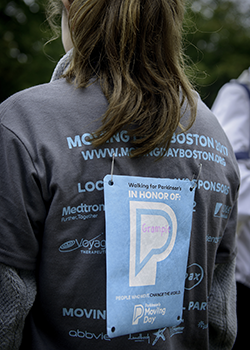 Team Captain
I earned a Moving Day® T-shirt!
Event:
I am participating in Moving Day® Chicago, benefiting the National Parkinson Foundation, on Sunday, October 15, 2017, at Lincoln Park, South Fields, as part of our team Journey with Jacquie.
The event will be a fun-filled, family-friendly event for all ages and abilities. We will be able to enjoy a variety of movement activities yoga, dance, Pilates, Tai Chi, boxing, stretching and much more and celebrate the importance of movement in our lives.
My mom Jacquie was diagnosed with Parkinson's disease in 2016.
Jacquie's father/my grandpa Jack Beisler also had Parkinson's, as does our cousin Kathy Maurer? s husband Kent. I found out about this event through Kathy, who does the Ohio version of the walk in honor of Kent. Jacquie also has local Chicago area friends that she met through having Parkinson? s who participate.
I am excited to do this in honor of my mom Jacquie and our cousin Kent, in memory of my Grandpa Jack, and to beat Parkinson's for all those battling it now, those who have died, and those who may be faced with it in the future.
Please consider being a part of our team or sponsoring me, and I encourage you to get your friends, family and coworkers involved.
For those who plan to join our team and walk with us on 10/15/17, we designed Journey with Jacquie baseball shirts to wear together that day. You can order them here: https://www.customizedgirl.com/s/teamfitandhealthy.
Note for those ordering shirts, the sleeves on the adult sizes are big/roomy and many of the women in our family are opting to go with the Youth XL, as it fits us better (sleeves are not so big and the torso area is more spacious). Please let us know if you have any questions about sizing, before you order.
Thank you for helping me reach my fundraising goal to support the vital work of the National Parkinson Foundation.
Why Move for Moving Day?
Did you know that someone is diagnosed with Parkinson's disease every 9 minutes in the United States?
No one should have to face Parkinson's alone. That is why the National Parkinson Foundation provides a community of support to give people the resources and help they need to live well with Parkinson's.
Support our mission to help every person diagnosed with Parkinson's live their best possible life now. Your gift will help us fund better research, better treatment and better lives.
Honor Roll
Kenneth & Joyce Gulliford