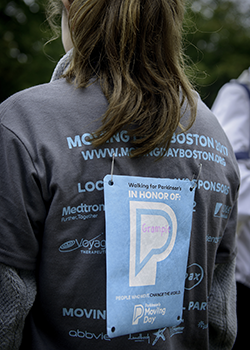 I earned a Moving Day T-shirt!
Event:
I have recently joined Kohler's Crew to raise money and awareness for my friend's Dad who was diagnosed with Parkinson's in 2016. PD was not a disease that I heard about often until it came roaring into my best friends life.
I have known my friend Sarah since high school and she has ALWAYS been a true inspiration to living a successful and fulfilling life. She has been on dozens of charity boards and always helped when help is needed – no questions asked. She comes from a fun loving and charitable family that I am honored to know. When her dad was diagnosed with PD it rocked her family's world and devastated everyone who knew them. Although Parkinson's has affected their lives, they continue to stay positive and take on this disease head on with a fighting attitude.
I have decided to help them fight this battle, so they can win the war. I ask that you help in any way you can, whether that is through a donation or joining the team to walk with us in the fight for Parkinson's. Every dollar counts and is one more step to helping the people and families that have been affected by PD.
If you are interested in joining the team the event will be a fun-filled, family-friendly event for all ages and abilities. We will be able to enjoy a variety of movement activities yoga, dance, Pilates, Tai Chi, boxing, stretching and much more and celebrate the importance of movement in our lives.
Thank you for helping me reach my fundraising goal to support the vital work of the Parkinson's Foundation.
Why Move for Moving Day?
Did you know that someone is diagnosed with Parkinson's disease every 9 minutes in the United States? No one should have to face Parkinson's alone. That is why the Parkinson's Foundation provides a community of support to give people the resources and help they need to live well with Parkinson's.
Support our mission to help every person diagnosed with Parkinson's live their best possible life now. Your gift will help us fund better research, better treatment and better lives.