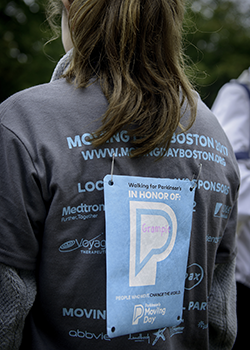 Team Captain
I earned a Moving Day T-shirt!
$1,000 Level Fundraiser
Event:
I fundraise on behalf of my dad, Chuck who has had PD for 11 years. Who is the sweetest, most sarcastic, and funniest guy I know. My dad has changed considerably in these last 6 mos, and it's been difficult to see. We still fight though. Help me fight for him, for those who are battling this challenging disease now, and for those who will some day.
Much love,
Jessica
Why Move for Moving Day?
Did you know that someone is diagnosed with Parkinson's disease every 9 minutes in the United States? No one should have to face Parkinson's alone. That is why the Parkinson's Foundation provides a community of support to give people the resources and help they need to live well with Parkinson's.
Support our mission to help every person diagnosed with Parkinson's live their best possible life now. Your gift will help us fund better research, better treatment and better lives.
Honor Roll
The Florida Chriske Crew!!!
Matt, Roclyn, Alexis and Olivia