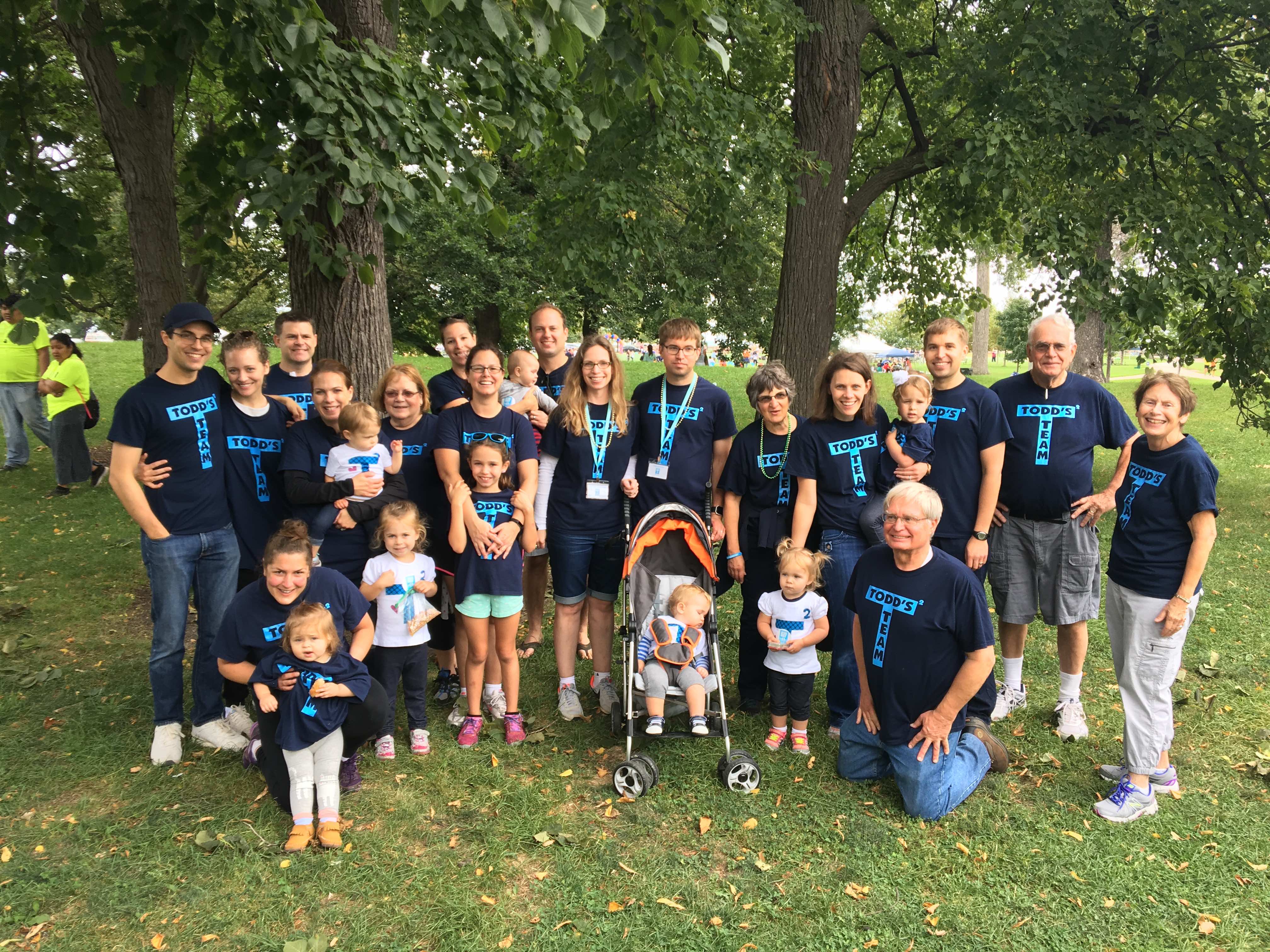 $50,000 Team Champion Level
Event:
Thank you for visiting our team site. I am Todd, the namesake of this team. I was diagnosed with Young Onset Parkinson's Disease (YOPD) in late October 2012. At the time I was 31, about half the age of most Parkinson's patients. While less common (YOPD effects 10% of all PD patients), Parkinson's can effect young people, as I?ve found out first hand. YOPD typically progresses slower than PD in an older patient, but it also presents different challenges as somebody with YOPD still has to juggle a job, a relationship, family, etc, along with the disease.
Parkinson's is a progressive neurological disorder resulting from the loss of dopamine-generating cells. While it affects people in many different ways, common symptoms includes shaking, rigidity, and slowness of movement. For me, rigidity and slowness are the primary symptoms, with my hands and arms not always moving the way I want them to. That being said, with regular exercise and stretching, as well as medication, I have largely been able to keep my Parkinson's at bay, with minimal increases in medication.
My life has changed a lot since I was diagnosed. I am now married, with an almost two-year old, and a newborn. My son Griffin is my favorite workout partner and he offers lots of encouragement. My wife provides an incredible amount of support, whether it be watching the kids so I can exercise, or buying baby clothes that are easier for me to put on our daughter Annika. It's these daily challenges that can be frustrating, but I also know it could be much worse. Parkinson's is always present, but so far, it hasn?t prevented me from doing many of the things I want to do. I hope that things can stay this way for a long time.
At the same time, I?m realistic and know that Parkinson's is a degenerative disease. There's only so much I can do on my own, which is why I encourage you to consider joining Todd's Team, or making a donation. Over the past four years we have been joined by an ever-growing amount of teammates and have raised over $40,000. The challenges of Parkinson's still exist and as of yet there is no cure. I am hopeful that with your donation more people will get the support and resources they need now, and one day soon we will find a cure.
With Gratitude and Thanks,Todd and Team
Team Members
Please select a team member below to make a donation to this team. If you would like to make a general donation to the team, contact us.
Honor Roll
Carl, Kristin, Natalie and Caroline
Foundation Bonham Family Foundation
Ms. Ruth Bradford-Johnson
Carol Amico & Scott Morrow
Cari, Anna and Johnny Wilkins
Joyce & Jerry Hershberger
Gerry & Lisa Scott Ptacek
Abby, Mark and Ellie Sommer
Marc Kinzelman and Mary McIlvaine
Fran Bedford, Dick Outland
In memory of Lucille Amella
Lisa and Johnmy Scivittaro
Devon, Kelly & Kensi Bryant
Mrs. Susan M. Kowbel-Keller
Diane Lange & Bill Garvey
Frank, Rebecca, Nathan and Raegan
Ruth Bradford-Johnson and Wayne Johnson
Ruth Bradford-Johnson & Wayne Johnson
Todd, Lori Ann, Griffin & Annika
Todd, LA, Griffin, & Annika
Todd, LA, Griffin, and Annika
Todd, Lori Ann, Griffin, & Annika
Todd, Lori Ann, Annika, & Griffin