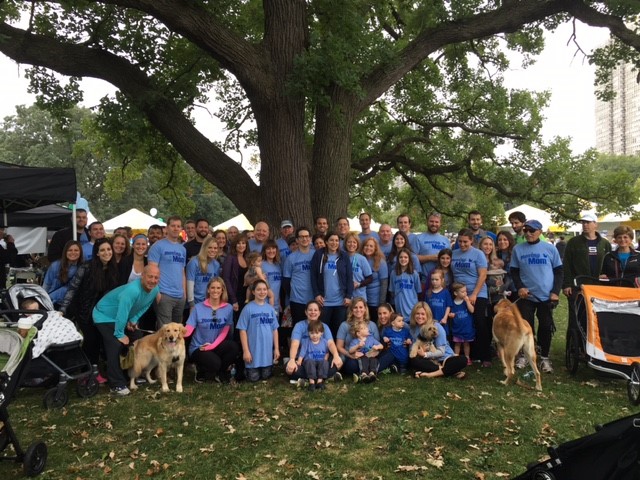 Dear Friends and Family,
It's that time of year again! For the sixth year in a row, our family will be participating in Chicago Moving Day Walk, benefiting the Parkinson's Foundation. The event will be held on Sunday, October 15, 2017 in Lincoln Park.
This event is especially close to our hearts because our Mom was diagnosed with Parkinson's in early 2012. Led by her strength, our family has come together to make sure we are actively fighting this disease and can one day find a cure! Please get "MOVING FOR MOM" with us on October 15th!
Moving Day helps to raise awareness and critical funds to improve the quality of care for people with Parkinson's disease through research, education and outreach. For more information about the Parkinson's Foundation and its work, please visit www.parkinson.org
We hope you will help us to raise money, but just as meaningful to us is your support – walk with our team (it is no cost to join). If you are able to join our team, we will keep you posted on our team's progress, parking and meeting locations for the walk. Moving Day is a fun-filled, family-friendly event for all ages and abilities. There are a variety of movement activities including a 2 mile walk to celebrate the importance of movement in our lives.
Additionally, any tax-deductible gift makes a difference in the National Parkinson Foundation's mission. Whatever you can give will help ? it all adds up! Thank you for visiting our fundraising page.
Thank you in advance for your generosity and support of this important cause.
Please help us do "Whatever it takes to beat Parkinson's!"
– The Braun Family
? To become a member of our team please select the ?Join The Team? button at the top or bottom of the page.
? To donate or visit a team members personal page please select from the ?Team Members? list at the bottom of the page.
Thank you for supporting us and the vital work of the Parkinson's Foundation.
Honor Roll
Lauren Samuel & Jose Ibarra