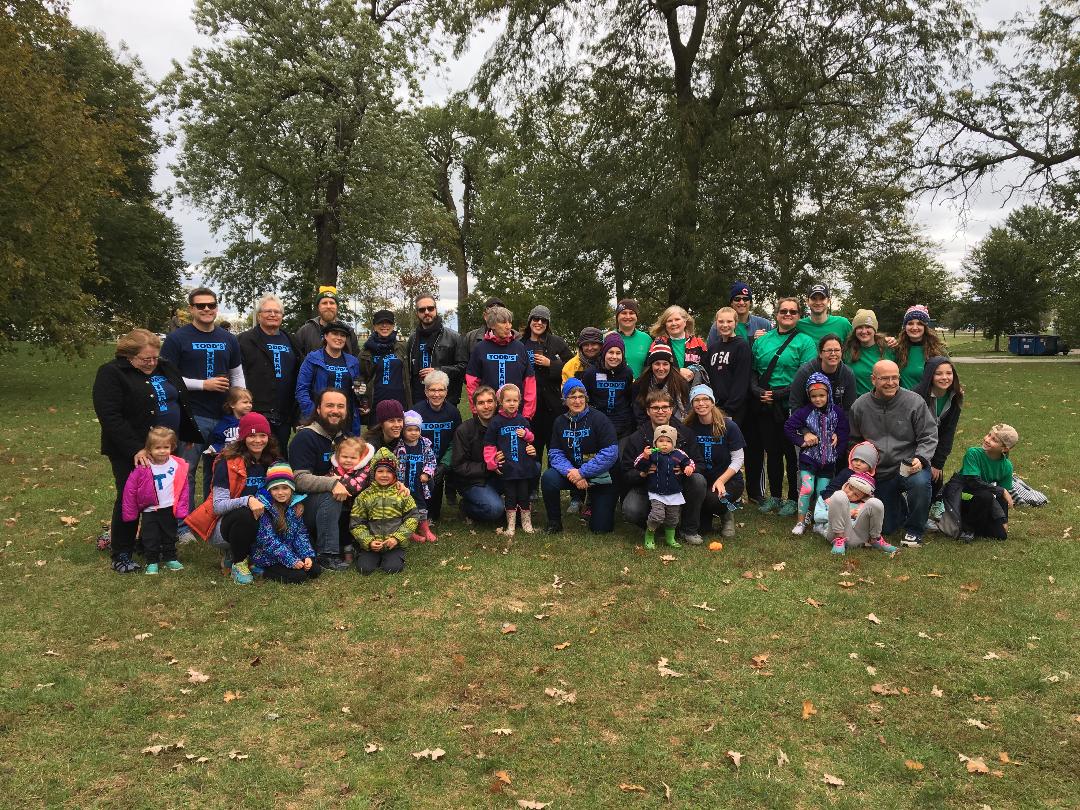 $10,000 Team Champion Level
Event:
Thank you for visiting our team site. I am Todd, the namesake of this team. I was diagnosed with Young Onset Parkinson's Disease (YOPD) in late October 2012. At the time I was 31, about half the age of most Parkinson's patients.While less common (YOPD effects 10% of all PD patients), Parkinson's can effect young people, as I've found out first hand. YOPD typically progresses slower than PD in an older patient, but it also presents different challenges as somebody with YOPD still has to juggle a job, family, etc. along with the disease.
Parkinson's is a progressive neurological disorder resulting from the loss of dopamine-generating cells. While it affects people in many different ways, common symptoms includes shaking, rigidity, and slowness of movement. For me, rigidity and slowness are the primary symptoms, with an occasional tremor. The hardest part is that my hands and arms don't always move the way I want them too. In the past six months I increased my medication quite a bit, and am now up to 15 doses a day, which is pretty typical for people with PD. The increased medicine, along with stretching and exercise, have largely kept my symptoms under control.
My life has changed a lot since I was diagnosed. I am now married, with a three-year old son and one-year old daughter. My son Griffin encourages me to stretch and exercise, and serves as a good workout partner. My daughter Annika is mobile and keeps me active with her lack of common sense and willingness to put anything in her mouth. My wife Lori Ann provides an incredible amount of support, and offers to do tasks she knows are difficult for me because of PD. It's the struggle with daily tasks that can be frustrating, since it's a constant reminder of the disease. While Parkinson's is always present, I've been lucky in that it hasn't prevented me from doing many of the things I want to do. I can do them, just slower. I hope that things can stay this way for a long time.
At the same time, I'm realistic and know that Parkinson's is a degenerative disease. There's only so much I can do on my own, which is why I encourage you to consider joining Todd's Team, or making a donation. Over the past five years we have been joined by an ever-growing amount of teammates and have raised over $50,000. The challenges of Parkinson's still exist and as of yet there is no cure. I am hopeful that with your donation more people will get the support and resources they need now, and one day soon we will find a cure.
With Gratitude and Thanks,
Todd and Team
Team Members
Please select a team member below to make a donation to this team. If you would like to make a general donation to the team, contact us.
Honor Roll
AbbVie Chicago Match Campaign
AbbVie match for Christine Greidanus
Ruth Bradford-Johnson & Wayne Johnson
The Minton & Stone Family
Ms. Ruth Bradford-Johnson
Morris and Joyce Firebaugh
Joyce & Jerry Hershberger
Steve & Patty Schauf Family
Guenter & Sandra Wiedemann
Roger and Suzanne Chernik
Abby, Mark Eliana and Lila Sommer
Mrs. Susan M. Kowbel-Keller
Todd, LA, Griffin, & Annika
Aunt Ruth and Uncle Wayne
Ronald & Patricia Brodsko
Todd, LA, Annika, & Griffin
Thomas & Constance Lonergan
Dave & Peggy Laz Recknagel