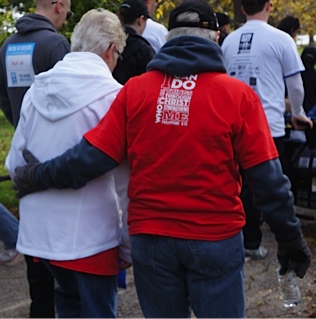 $1,000 Team Champion Level
Event:
Welcome to Judy's Groupies' Moving Day® Chicago Team Page!
We are excited to once again participate in Moving Day Chicago in support of Judy and all the other people who do battle against Parkinson's on a daily basis. This is a battle that takes tremendous faith and strength and a spirit that will not accept defeat. We ask you to join us in not only supporting Judy and those that live with Parkinson's, but also their family members who walk this journey and fight this battle with them.
Consider joining our team, monetarily supporting the good and worthy work the Parkinson's Foundation does on a daily basis and most importantly praying for relief from symptoms and stresses for these warriors and that God would provide a cure for Parkinson's. Not only does your support mean so much to Judy and her family, it also helps the Parkinson's Foundation to continue improving the quality of care for those living with Parkinson's and to provide education and direction for the 50,000-60,000 people who are newly diagnosed with Parkinson's each and every year.
Thank you for your continued support and love. You are a blessing!
– To become a member of our team please select the 'Join The Team' button at the top or bottom of the page.
– To donate or visit a team members personal page please select from the 'Team Members' list at the bottom of the page.
Team Members
Please select a team member below to make a donation to this team. If you would like to make a general donation to the team, contact us.
Honor Roll
AbbVie Chicago Match Campaign