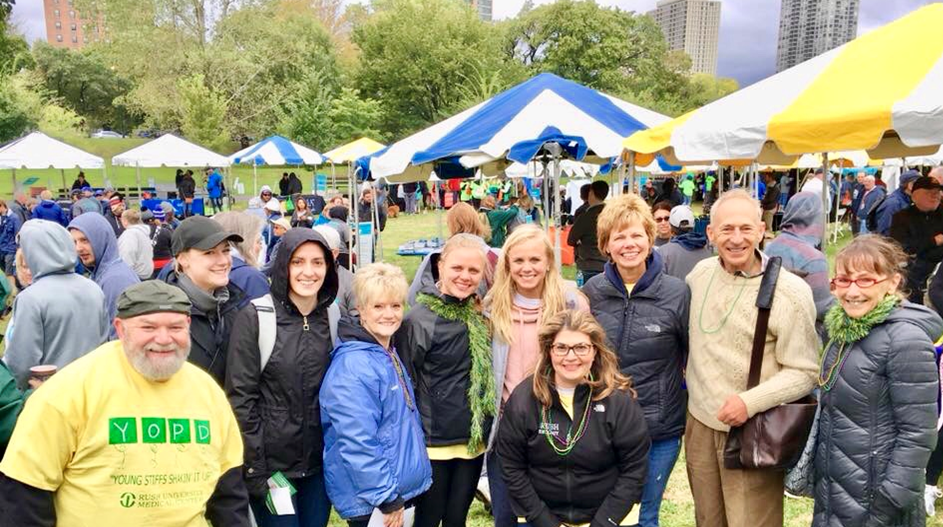 $20,000 Team Champion Level
Event:
Hello Rush YOPD members, family and friends!
Thank you for seeking out our team page! Our Rush Young Onset Parkinson's Disease Support Group (Young Stiffs Shaking it Up) is participating in Moving Day® Chicago, benefiting the Parkinson's Foundation Chicago, on Sunday, October 14, 2018, at Lincoln Park – South Fields.
The event will be a fun-filled, family-friendly event for all ages and abilities that celebrates the importance of movement in our lives. We will be able to enjoy a variety of movement activities, such as yoga, dance, Pilates, Tai Chi, boxing, stretching and much more.
We hope you will consider being part of our team and register now. If you can't join us for the walk, please consider making a donation to our team to aid the PD movement. Working in tandem with the Parkinson's Foundation and its partners, your financial support helps build awareness and understanding of Parkinson's disease while funding treatments, research and various programs that are critical to the fight.
We will be selling our team Rush – Young Stiffs Shaking It UP t-shirts and sweatshirts. For information on purchasing our team t-shirt and/or sweatshirt, please email us.
Did you know that someone is diagnosed with Parkinson's disease every 9 minutes in the United States? No one should have to face Parkinson's alone. That is why the Parkinson's Foundation provides a community of support to give people the resources and help they need to live well with Parkinson's.
Why Move for Moving Day?
Support the Parkinson Foundation's mission to help every person diagnosed with Parkinson's live their best possible life now. Your gift will help the Parkinson Foundation fund better research, better treatment and better lives.
Thank you for helping us reach our fundraising goals to support the vital work of the Parkinson's Foundation. Every donation makes a difference!!!
If you have any questions or need assistance in joining our team, please contact Mary Ellen meoliver@dolginlawgroup.com or Marty maibuecher@asmchicago.com.
Team Members
Please select a team member below to make a donation to this team. If you would like to make a general donation to the team, contact us.
Honor Roll
Friends & Colleagues at Rush MMD!!
AbbVie Chicago Match Campaign
Kathy Owens & Don Zamborsky
Cheryl Soderstrom, Grace & Heart
Rita, Steve & Nick Slager
Dan, Hava, Emilia & Julia
Howard Ross Family Foundation
Jeff and Kathleen Wolinski
CME Group Community Foundation match for Dan Kernan
Ms. Kelly Arnold Weinschreider
George Pappas & Dean Richards
Kathleen Doherty and her friend Mike frehe
Donna and Brad Schlichting