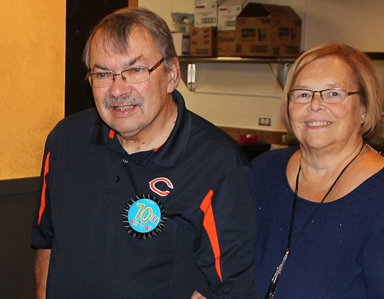 $5,000 Team Champion Level
Event:
Welcome to our Moving Day® Team Page!
In the United States, 50,000-60,000 new cases of Parkinson's disease (PD) are diagnosed each year, adding to the one million people who currently have PD. One of the brave men who battles the devastating effects of Parkinson's is Fred Baumann. The Baumann Family has decided to stand up together and make a difference and we need your help. As everyone who has been effected by this disease know s(either through diagnosis or by the diagnosis of a friend or family member), this disease sucks and we need to come together to beat this.
This October, we will…
Walk in honor of man who continues to touch the lives of so many people
Walk in honor of the most loving husband
Walk in honor of the best father someone could ever ask for
Walk so that we get him away from watching wrestling one Sunday
Walk in honor of the softball coach of hundreds
Walk in honor of the soccer coach of so many
Walk in honor of the Danny Moreno Tennis Tournament Inaugural Champion
Walk in honor of our scout leader with way too many Owasippe stories
Walk in honor of a man who has shown true dedication in his work, at home and with his family
Walk in honor of a man who always has and always be the #1 Cubs (and Bears) fan
Walk in honor of Fred Baumann
The walk is either 1/2 or 2 miles. If you can't walk, make a donation. Share this page on Facebook, Twitter, Instagram, LinkedIn, SnapChat or whatever else you have – Jason will be proud. Come out on October 14th, bring a sign and just support those walking. Every bit helps. And for everything, we are grateful.
– To become a member of our team please select the 'Join The Team' button at the top or bottom of the page.
– To donate or visit a team members personal page please select from the 'Team Members' list at the bottom of the page.
Thank you for supporting us and the vital work of the Parkinson's Foundation.
Team Members
Please select a team member below to make a donation to this team. If you would like to make a general donation to the team, contact us.
Honor Roll
Patricia Joan Murphy and the Worth Township Democratic Organization
Terri Bumgardner & Larry Watson
Jesse Charbonier Rodriguez
Caitlin, Michelle, Yamil, Amanda and Jack
Mark Brzezicki and family
Sarah Seifert & Ellen Pillsbury
Andrew and Michelle Cuttitta and family