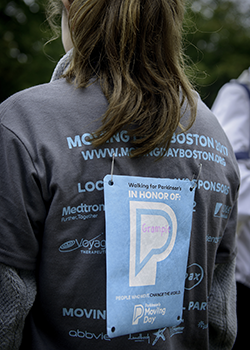 Team Captain
I made a personal donation!
I earned a Moving Day T-shirt!
$250 Level Fundraiser
Event:
I am participating in Moving Day® Cleveland, benefiting the Parkinson's Foundation Ohio Chapter, on Saturday, June 22, 2019, at Wade Oval in University Circle.
This is an event that spotlights the importance of movement in dealing with Parkinsons. There will be a lot of events, informational areas and areas to demonstrates various ways to use movement to slow down the progression of the disease .
Barney was diagnosed 6 years ago. He is a great example of how his exercise has helped on a lot of ways. He has been running since he was around age 12 or so- running track and cross country both in high school and college . He has run in many Marathons, many, many 5Ks , so already has had an advantage . Continuing to do so has shown how much this has helped slow down his progression. He has also participated in a couple of clinical trials at the Clinic that involve doing just this.
Moving Day Cleveland is filled with information, activities , especially at the Movement Tents. That is where I will be. When you come in the Main Entrance, you will see two tents way in the back. Come back there first before you stop anywhere else.!!! The larger tents will be having chair yoga, a fun physical therapy activity, and Rock Steady Boxing. The other tent will be Reiki. This one always generates a lot of interest.
Since most of the donations are generated on-line at the site. Here is how you can help.
Go to MovingDayCleveland.org. You will see Search for a Team – put in Team Leslie. Where is says, Donate, click on there. Your names should up on a list on there since I have this e-mail. Follow those instructions.
A couple of things: You can donate ANY amount you want, not just the first ones they show. look at your other options of how you want to do it . You will also receive a generated document to use for tax deduction .
I am hoping for good weather this year. The first year, it was 95 degrees; last year it poured all day. If you are the area, stop by and see me.
I appreciate all of this. The Clincial Trials are one of the areas that really benefit from these donations.
Jan