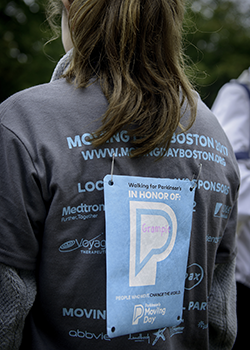 I made a personal donation!
I earned a Moving Day T-shirt!
$250 Level Fundraiser
Event:
You never know what someone is going through, until you walk a mile in his or her shoes.
In 2010, I started dating Tyler—who I'm happy to say is now my husband. I met his family, and I was instantly in love. They were all so welcoming. They truly made me feel like a part of their family.
I later found out that in 2007, Tyler's Uncle Mike began searching for answers to some unsettling symptoms. He and his wife knew something wasn't right. I have to say, when we found out Uncle Mike had Parkinson's, I was shocked. I didn't realize his health issues were so serious.
Recently, I had the honor of editing Uncle Mike's DBS transformation. My heart ached as I watch Uncle Mike do his baseline testing— no medication in his system. I can't begin to imagine what having Parkinson's must be like, but I do know one thing. My uncle is a fighter. He's honest about the struggles he faces. Through everything, he's always kept a positive attitude and a light heart. I love my uncle, and I'm blessed to be a part of this family. On June 22, I walk with my uncle.
I am participating in Moving Day® Cleveland, benefiting the Parkinson's Foundation Ohio Chapter, on Saturday, June 22, 2019, at Wade Oval in University Circle.
The event will be a fun-filled, family-friendly event for all ages and abilities. We will be able to enjoy a variety of movement activities like yoga, dance, Pilates, Tai Chi, boxing, stretching and much more and celebrate the importance of movement in our lives.
Please consider being a part of my team or sponsoring me, and I encourage you to get your friends, family and coworkers involved.
Thank you for helping me reach my fundraising goal to support the vital work of the Parkinson's Foundation.
Why Move for Moving Day?
Did you know that someone is diagnosed with Parkinson's disease every 9 minutes in the United States? No one should have to face Parkinson's alone. That is why the Parkinson's Foundation provides a community of support to give people the resources and help they need to live well with Parkinson's.
Support our mission to help every person diagnosed with Parkinson's live their best possible life now. Your gift will help us fund better research, better treatment and better lives.
Honor Roll
Brent, Jacqueline, and Emmett