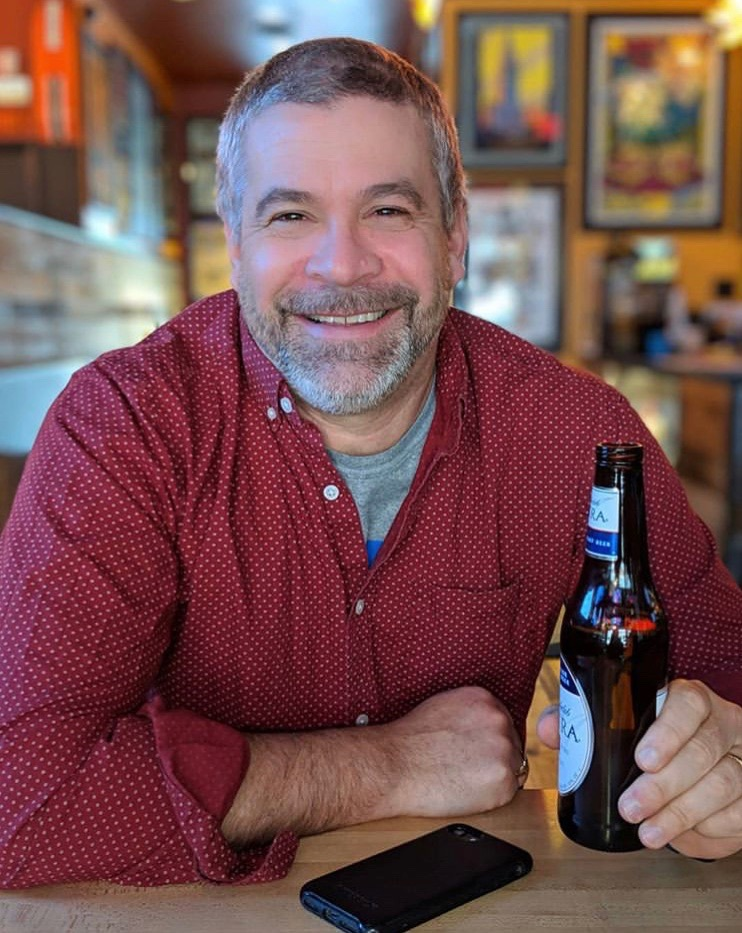 In honor of my Dad who was diagnosed with early onset Parkinson's in 2017, I will be  participating in Moving Day® Cleveland on June 22, 2019 at Wade Oval in University Circle.
Here's his story:
"My journey with Parkinson's Disease began with a weird finger twitch in 2007, at the very young age of 40, which a physician attributed it to a simple virus.

The following 10 years were a roller coaster ride, riddled with increasingly odd symptoms, unexplainable stiffness and fatigue, too many sleepless nights to count and an increased inability to attend our children's extracurricular activities or social events with friends and family.

Toni and I sought the expert opinions of countless physicians specializing in diseases such as ALS, MS, PD, etc. and I underwent a battery of tests with the end result always being the same-a continual lack of diagnosis.

Shear exasperation set in and not surprisingly, my quality of life, both personally and professionally, continued to decline. I felt defeated and began to wonder if my friends and family, as well as the medical community, thought this was somehow all in my head. I became stubborn, refusing to put myself through further testing because the outcome was always the same and decided I would just try to tough it out.

As if the physical symptoms were not enough, the emotional trauma of this 10 year saga also took its toll on both Toni and I. In 2017, refusing to give up, Toni finally convinced me to give it one more try. She decided to change medical institutions and scheduled an appointment for me to see a movement specialist at University Hospitals. Moments into my very first visit with Dr. Kilbane at University Hospitals, she shared that she suspected I had Parkinson's disease. As awful as this diagnosis is, I felt a sense of peace to finally have a name for what I had been battling all these years and though I knew there was no cure, there was hope in knowing that there were treatment options.

I immediately began treatment with medications and over the following 18 months, my medication load increased to an all-time high of 27 pills daily. The medications came with their own debilitating side effects and on December 31, 2018, I underwent deep brain stimulator implantation surgery.

So far, currently five months post surgery, I have been able to decrease my medication load by approximately 70%. I feel better than I have in at least a decade, am grateful for the miracles of modern medicine and am finally looking forward to enjoying my life to the fullest once again."
Even throughout all of this hardship, my Dad has still remained as the strongest, hardest working, persistent man that I know. He refuses to let this disease define his life and the way he lives it. He continues to be the foundation of our family and he is always a constant source of joy and laughter even on his toughest days.
A lot of fathers say they are lucky to call their sons, their sons. Well in my case, I am incredibly lucky to call Mike Jones, my Dad.
Please consider being a part of my team or sponsoring me, and I encourage you to get your friends and family involved. This foundation means a lot to my Dad and the rest of our family and it would mean the world to us if we could reach our goal. 
Thank you for helping us reach our fundraising goal to support the vital work of the Parkinson's Foundation. Hopefully you can make it to the event and help us provide support for the Parkinson's community!
Why Move for Moving Day?
Did you know that someone is diagnosed with Parkinson's disease every 9 minutes in the United States? No one should have to face Parkinson's alone. That is why the Parkinson's Foundation provides a community of support to give people the resources and help they need to live well with Parkinson's.
Support our mission to help every person diagnosed with Parkinson's live their best possible life now. Your gift will help us fund better research, better treatment and better lives.