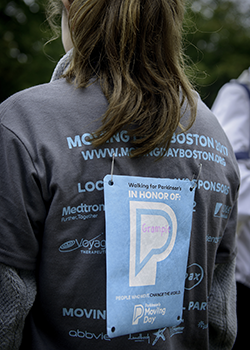 Team Captain
I made a personal donation!
I earned a Moving Day T-shirt!
Event:
In October of 2016 I got a phone call from my brother that (at the risk of sounding dramatic…) changed my life. My dad, Michael Pence, was diagnosed with Parkinson's Disease. I was on a work trip and all I could do was cry about what the future held for my dad and my family. I was scared that the dad I knew would not be the same, and the lack of knowledge I held might have scared me more. None of us knew anything about PD, like most all we knew was Michael J Fox had it. I quickly began reading everything I could get my hands on, which usually led me to tears at the things I was reading. Months went by and my dad seemed to get worse. Like we always have, our family and close friends continued to stay positive and support one another. We learned more about PD, my dad's doctors continued to keep a close eye on him and through support, medical research, constant conversations about what more we can do, a whole lot of prayers and above all the love of family and friends my dad today is doing well. There are good days and bad days but we count our blessings for all the good ones we have.
Through the experience my family and I have had I decided to begin volunteering recently with the Parkinson's Foundation here in Columbus. I feel inspired to learn more, to connect with others who have similar stories and to do everything I can to raise awareness, and research for PD. I am walking this year in Columbus for Moving Day. My goal is to raise $500 for this event. If you are looking for a cause to donate to, any amount helps towards my goal! Your gift will help us fund better research, better treatment and better lives.
Please spread the word to your family and friends of my personal fundraising goal using the below hashtag
#Pences4Parkinsons
To learn more about the Parkinson's Foundation and all the support your donation will serve please visit https://movingdaywalk.org/why-we-walk/