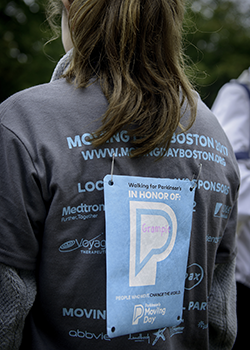 Team Captain
I earned a Moving Day T-shirt!
$1,000 Level Fundraiser
Event:
It was quite a shock to learn at the age of 38 that the hardly discernable tremor in my left hand was a symptom of Early Onset Parkinson's- How could that be?
I was an active fit thirty something ready to take on the world- working full time and quickly climbing the corporate sales ladder, while successfully managing the roles of wife and mother to a 9 and 7 year old at the time. I was qualifying for incentive trips at work, and being elected as PTA President at my kids' elementary school.
This was NOT in the script of my life's movie. For the next 10 years I kept it out of my script, forging ahead and largely keeping my condition to myself. Since then I've managed through the realization that I have a life altering movement disorder that affects not just me but all those around me. Managing my condition and volunteering for the Parkinson's Foundation has become my new full time job. Some days are better than others and everyday brings new challenges and unexpected turns.
Fortunately, I was blessed with an uber amount of optimism and determination. That, along with wonderful care from excellent doctors, unwavering support from family and friends, and staying active through programs supported by the Parkinson's Foundation like Rock Steady Boxing, have allowed me to continue to lead a robust and fulfilling life.
This May I turn 50. I am grateful that, nearly 12 years post diagnosis, I continue to thrive- I want that to continue for many more years ahead for me and the other 1 million Americans living with PD. The programs and research that the PF supports is paramount to my vision coming true.
Your donation will ensure a bright future ahead for all of us- thank you in advance for your generosity and support!
Why Move for Moving Day?
Did you know that someone is diagnosed with Parkinson's disease every 9 minutes in the United States? No one should have to face Parkinson's alone. That is why the Parkinson's Foundation provides a community of support to give people the resources and help they need to live well with Parkinson's.
Support our mission to help every person diagnosed with Parkinson's live their best possible life now. Your gift will help us fund better research, better treatment and better lives.
Honor Roll
Salesforce match for Suzanne Egolf
Company OneHope Foundation
Bank of America match for Michael Rosa
Mrs. Victoria Eisenbeiser
Mrs. Kathryn P. Baxter-Gagen