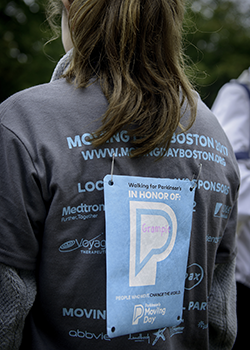 I made a personal donation!
I earned a Moving Day T-shirt!
Event:
Parkinson's disease is something that affects my family's life on a daily basis. My father is one of the strongest and most courageous men I will ever know. Every day he fights this disease not knowing what tomorrow brings. Just like any disease, there are good days and bad days. The difference between the two is the outlook. My father inspires me every day to live my life to the fullest and to be grateful for everything the Lord gives me, both the good and the bad experiences. Not only does my dad show strength but my mother does as well. She is his other half, caretaker, and best friend. She shows a strength and courage that I hope to match one day. Through both of their lives, I know that I can handle anything this life throws my way.
This October 27, 2018, my family is participating in the Parkinson Foundations Moving Day DFW. With your support, we can help the foundation's mission to make life better for people living with Parkinson's disease through expert care and research. My goal is to raise $250 dollars for my father's team: Team Gratitude. If you could donate a dollar or two, every little bit helps!
The event will be a fun-filled, family-friendly event for all ages and abilities. We will be able to enjoy a variety of movement activities yoga, dance, Pilates, Tai Chi, boxing, stretching and much more and celebrate the importance of movement in our lives.
Please consider being a part of my team or sponsoring me, and I encourage you to get your friends, family and coworkers involved.
Thank you for helping me reach my fundraising goal to support the vital work of the Parkinson's Foundation.
Why Move for Moving Day?
Did you know that someone is diagnosed with Parkinson's disease every 9 minutes in the United States? No one should have to face Parkinson's alone. That is why the Parkinson's Foundation provides a community of support to give people the resources and help they need to live well with Parkinson's.
Support our mission to help every person diagnosed with Parkinson's live their best possible life now. Your gift will help us fund better research, better treatment and better lives.