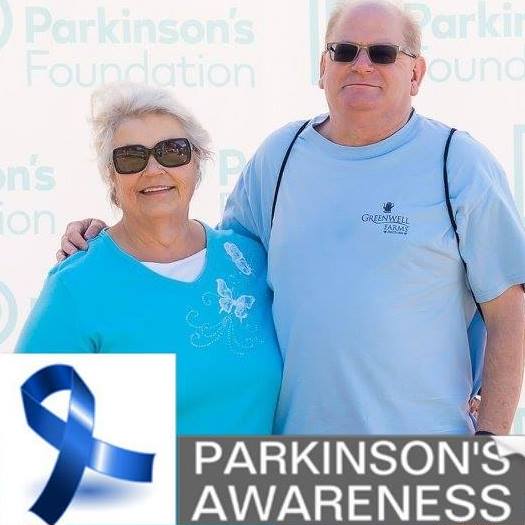 Hello Everyone, I am participating in Moving Day® Los Angeles, benefiting the Parkinson's Foundation, on Saturday, November 16, 2019, at Los Angeles Historic State Park.The event will be a fun-filled, family-friendly event for all ages and abilities. We will be able to enjoy a variety of movement activities like yoga, dance, Pilates, Tai Chi, boxing, stretching and much more and celebrate the importance of movement in our lives. Please consider being a part of my team or sponsoring me, and I encourage you to get your friends, family and coworkers involved. Thank you for being on my team and/or helping me reach my fundraising goal to support the vital work of the Parkinson's Foundation.Why Move for Moving Day? Did you know that someone is diagnosed with Parkinson's disease every 9 minutes in the United States? No one should have to face Parkinson's alone. That is why the Parkinson's Foundation provides a community of support to give people the resources and help they need to live well with Parkinson's.Support our mission to help every person diagnosed with Parkinson's live their best possible life now. Your gift will help us fund better research, better treatment and better lives. Now that the formalities are out of the way, here is my story!
I can recall around probably 2010 or 2011, I would go hiking with my cousin. Several times he mentioned to me that my right arm was not swinging normally. Instead it just kind of flopped down at my side. At the time I thought it was just a shoulder injury since I was having pain in my shoulder. Of course, I didn't think anything of it. I also had noticed that I began to drool more frequently, sometimes at the most inopportune moments. I just lived with these circumstances because I didn't know what they were and didn't really think they were that odd. Sometime in 2012 I was referred to a neurologist where they conducted electrical nerve stimulation tests. It was discovered there was reduced nerve functioning in my right arm and hand. I was also referred to an Orthopedic surgeon due to issues with my cervical spine. It was thought that issues I was having with my nerves in my arm and hand were the result of some discs bulging into the central nerve canal. In August, 2013 I will underwent an anterior discectomy with fusion. Not long after the surgery, I had a very difficult time swallowing. Of course, part of that was due to the surgery, but I'm not convinced that was all of it at that time.
Moving forward I was still having difficulty with the pain in my right arm and hand and in July, 2014 I was diagnosed with Parkinson's Disease. As I learned more about the disease, some of the things that I was experiencing began to fall into place. I understood why the right arm was not swinging. I understood why I was having difficulty with drooling and I understood that the issues with swallowing may not just have been due to the surgery. After the initial shock of this diagnosis, and a second opinion diagnosis from USC, I began to learn as much as I could about the disease. I began to understand that movement was very important towards delaying the progress of Parkinson's. I also asked for and received accommodations at work that included a notetaker during meetings and the use of Dragon Naturally Speaking. These accommodations worked well for a while. In about 2016 it became very clear that the tasks required of me at work were more labor-intensive and took longer for me to complete due to a diminished physical ability and a more difficult time and concentrating. It also became more difficult mentally and emotionally due to my frustration at not being able to perform my job to the standards that I had set for myself and that that the school district could set for me as well.
So, in the spring of 2017, I met with district personnel and created a plan for me to retire in September of that year. I chose September because I turned fifty-five towards the end of the month. Fifty-five was the age that I could retire with any number of years of service credit available. My last day of work was September 29, 2017.
Today you can find me in the gym 3 to 4 days a week, I also try to substitute teach several days a month and I try to remain active with involvement in church activities. I love to travel and be involved with my family. I find as much as I can to stimulate the brain and keep myself was active as possible to reduce the progress of the disease. I also don't mind being an advocate for Parkinson's and any progress that can be made towards a cure. I never know when the next dollar raised will be the dollar that is needed for that cure to be found. Even if it is not found in my lifetime, I do what I can to ensure that one day it will be found!
Thank you again for your consideration of joining me on this journey.  No matter if = you are walking on my team or donating financially for support or both. You are valuable and appreciated!
 With my best to you all,
Jon
Honor Roll
Be the first to donate to Jon Mullins!