Event Details
Date: Saturday, June 9, 2018
Location: Seneca Park | MAP
Registration opens: 9:00 a.m. | Walk start time: 10:30 a.m.
Contact: Amy Hickman | ph: 502-242-7168 | ahickman@parkinson.org
Website: www.parkinson.org
What an event, what a day, what a community!
On behalf of the thousands of people living with Parkinson's Disease and their care partners we serve in the Louisville area, we would like to thank everyone that participated in Moving Day Louisville 2018. The beautiful day coupled with the excitement and passion of everyone who attended made for a great day to fight Parkinson's. Your hard work and dedication helped us raise over $50,000! Many thanks to each committee member, sponsor, team, resource partner and volunteer who gave their time, talent, and support to this important movement. Sending each of you our heartfelt appreciation for helping the Parkinson's Foundation make life better for people living with Parkinson's.
We are still accepting donations. Please send checks and matching gift forms to:
Parkinson's Foundation
ATTN: Moving Day Louisville
200 SE 1st Street, Suite 800
Miami, FL 33131
Location:
Seneca Park
3151 Pee Wee Reese Rd, Louisville, KY 40207
Area between tennis courts and soft ball field next to the playground
The streets that circle around this area are Pee Wee Reese Rd and Rock Creek Drive
Parking:
Around perimeter of park
Christian Academy Rock Creek/Rock Creek Riding Club
There are restrooms on site with additional port a lets available as well.
Walk Distance:
Approximately 1.2 miles around the area (see map below) with the option to cut through the tennis courts making it shorter.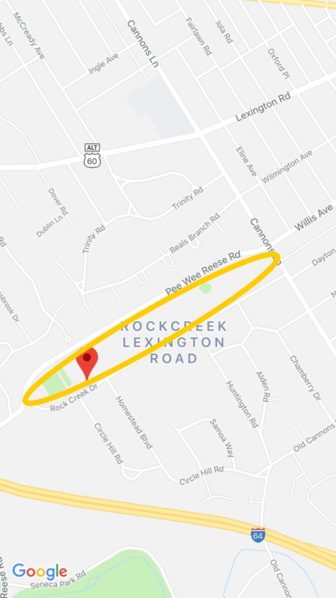 ---
To learn more about the resources in your area, and the great work of the Parkinson's Foundation, please visit our website www.parkinson.org.
If you have any questions about Moving Day®, are interested in sponsorship opportunities or would like information about the foundation, please contact us below:
Amy Hickman | ph: 502-242-7168 | ahickman@parkinson.org
Mailing address:
ATTN: Moving Day Louisville / Amy Hickman
Parkinson's Foundation, Inc.
200 SE 1st Street, Suite 800
Miami, FL 33131