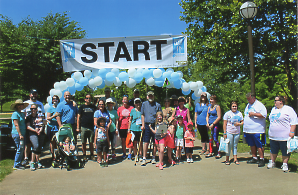 Welcome to Sonny's Stars Team Page!
Join us on Saturday June 9th from 9am to noon for the 2018 MovingDayLouisville Walk to beat Parkinson's! This year we'll be at Seneca Park by the tennis courts and playground with lots of things to do for children and adults! Come hear some great bluegrass music provided by our friends from Homeplace and some fine fiddling from our friends at the Louisville Folk School. Learn about Parkinson's Disease and participate in some of the exercise activities that keep us moving..like Rock Steady Boxing, Tai Chi, Yoga, Dance and more. We'll take a walk around the 1.2 mile paved loop (or a shorter 1/4 mile version is available) around 10:30 am. As you all know, Sonny has had Parkinson's for over 20 years now and he is still moving and grooving! We would love for you to come hang out with us and have some fun while we raise money for the Parkinson's Foundation.
In the United States, 50,000-60,000 new cases of Parkinson's disease (PD) are diagnosed each year, adding to the one million people who currently have PD.
Join Sonny's Stars for the 2018 Parkinson's Foundation Moving Day® walk, the first nationwide grassroots campaign that spotlights the disease on a national level and gives the chance to raise awareness and funds in our own community. Your support will help us continue improving the quality of care for those living with Parkinson's disease.
– If you think you will be able to join us on June 9th at Moving Day Louisville, join our team by clicking on the "Join the Team" button or to donate in Sonny's honor please select the Donate button at the top or bottom of the Sonny's Stars team page. Here is a shortcut link to his team page if you'd like to share with others! https://movingdaywalk.org/sonnysstars
Team Members
Please select a team member below to make a donation to this team. If you would like to make a general donation to the team, contact us.