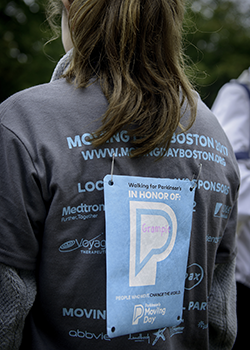 I earned a Moving Day T-shirt!
$250 Level Fundraiser
Event:
My mom was diagnosed with Parkinson's Disease almost two years ago.  Since that day she has battled and fought this disease with medication and also a wonderful boxing class call Rock Steady Boxing. She currently attends twice a week and the class members have been such a great addition to her fight. Seeing theses folks fight against PD in class is truly inspirational. Some times they are down and out when they come in but by the end of the class they are sweating and kicking PD's butt. This is why I am raising money to keep classes like this and to further research funded to fight against the terrible disease. I am participating in Moving Day® Nashville, benefiting the Parkinson's Foundation, on Sunday, May 19, 2019 at Centennial Park. Please consider being a part of my team or sponsoring me, and I encourage you to get your friends, family and coworkers involved. Thank you for helping me reach my fundraising goal to support the vital work of the Parkinson's Foundation. Why Move for Moving Day? Did you know that someone is diagnosed with Parkinson's disease every 9 minutes in the United States? No one should have to face Parkinson's alone. That is why the Parkinson's Foundation provides a community of support to give people the resources and help they need to live well with Parkinson's. Support our mission to help every person diagnosed with Parkinson's live their best possible life now. Your gift will help us fund better research, better treatment and better lives.