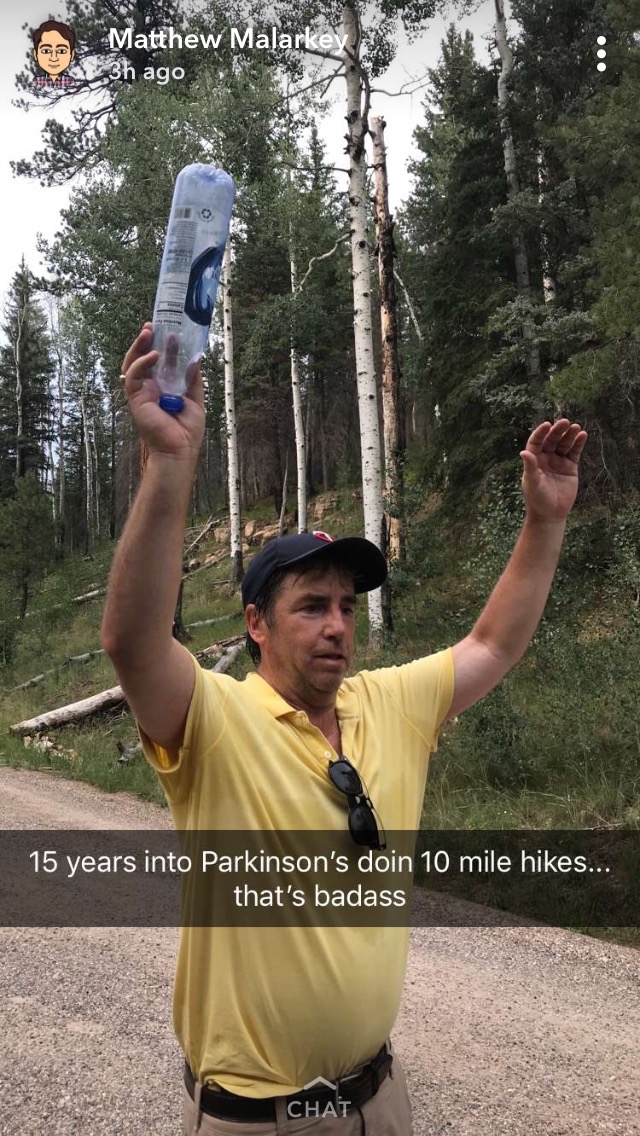 Team Captain
I made a personal donation!
I earned a Moving Day T-shirt!
$5,000 Level Fundraiser
Event:
I am participating in Moving Day® NC Triangle, benefiting the Parkinson's Foundation, on Saturday, November 3, 2018, at the Dorothea Dix Park in Raleigh.
The event will be a fun-filled, family-friendly event for all ages and abilities. We will be able to enjoy a variety of movement activities yoga, dance, Pilates, Tai Chi, boxing, stretching and much more and celebrate the importance of movement in our lives.
Please consider being a part of my team or sponsoring me, and I encourage you to get your friends, family and coworkers involved.
Thank you for helping me reach my fundraising goal to support the vital work of the Parkinson's Foundation.
Why Move for Moving Day?
Did you know that someone is diagnosed with Parkinson's disease every 9 minutes in the United States? No one should have to face Parkinson's alone. That is why the Parkinson's Foundation provides a community of support to give people the resources and help they need to live well with Parkinson's.
Support our mission to help every person diagnosed with Parkinson's live their best possible life now. Your gift will help us fund better research, better treatment and better lives.
About me (copy:paste the addresses into your server)
http://carycitizen.com/2017/06/20/cary-scientist-added-to-national-parkinsons-council/
Theme songs:
Fight Song by Rachel Platten
https://www.youtube.com/watch?v=xo1VInw-SKc
Party Rock Anthem (Every day I'm Shuffling) by LMFAO
https://www.youtube.com/watch?v=KQ6zr6kCPj8
To learn that you have PD is frightening, particularly when you are 46 years old and in the midst of a very joyful and active life. The grieving, the depression, the anxiety and the symptoms make you want to crawl under a rock. I was in NYC with my family and did not feel like taking a sightseeing walk and told them I'd stay in the hotel room and see them when they got back. How absurd that idea was. I was missing out on life. So that day I chose to walk and be with my family. Be there for friends and family and co-workers. It was then that I chose to live my PD life to the fullest. So I began to focus on what I could do and now I do it. Now, 13-years later, I find myself with limited loss of function, playing sports, working full-time, excercising, travelling, serving on councils and committees (and as President), and even went on a 10 mile hike with my family along the North Rim of the Grand Canyon. Why am I progressing so slowly relative to many of my friends with PD? I think that would make a great research project.
After many years of keeping the diagnosis known only to my immediate family members, I have since let others know and become a strong advocate and inspirational spokesperson for the PD community. I have given a number of presentations and testimonials to newly diagnosed people with PD as well as to teams of health professionals at workshops on strategies for coping well with PD, and at Scientific Meetings. In November of 2017, I gave an invited presentation on "Beating the odds against PD: A personal journey" to a nearly capacity audience of ~250 scientists in a session about PD at the Annual meeting of the American College of Toxicology in Baltimore, MD. I have worked to educate other people with Parkinson's and health professionals about successfully coping with the disease. I have developed many friends in the PD community and have come to agree with the quote by my friend Henry that "When you've seen a case of PD, you have seen one case of PD". Each individual's disease is different. I think we can learn from the differences to determine causes of PD as well as effective treatments and eventually a cure. For example, why do some people's PD progress slower than others? We definitely need more research. And we can hopefully learn from the recent advancements being made in other neurogenerative diseases such as ALS and MS.
I have participated in the annual "Triangle Moving Day" fundraiser since its inception in 2013. I have served as a member of the organizing committee, a team captain, and individual fundraiser. Our team, "The Young Onsetters", has been in the top-3 fundraisers every year, having rasied over $80,000 for the Parkinson's Foundation (PF). In addition to my professional work in environmental science I take time for my hobbies that now include tennis, bowling, golfing, therapeutic boxing with Rock Steady Boxing, bird-watching and photography. I have developed a knack of photographing birds and nature and have sold photos to generate funds for PF. I was glad to share these photos on Face book and the News and Observer's "Best Shot" series.
I was recently selected for the Parkinson's Foundation People with Parkinson's Advisory Committee (PPAC) which acts nationally representing people with Parkinson's. I am honored to be serving People with Parkinson's for this position to which I provide perspectives of my scientific experiences and enthusiasm to bear as an advocate at a national level. It is a privilege and a pleasure to work beside such dedicated individuals especially with People with Parkinson's on the committee and represent all people with Parkinson's Disease.
Honor Roll
Company Weintraub Family Charitable Fund
Glenn Cantor and Inge Eriks
Bristol-Myers Squibb Foundation match for Glenn Cantor
Cynthia Willson and Barry Spryng