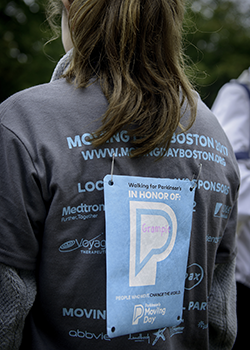 Team Captain
I made a personal donation!
I earned a Moving Day® T-shirt!
$500 Level Fundraiser
Event:
Hello friends,
In memory of my Dad '" Michael Reingold I have decided to once again register the Allen Tate Realtors Moving Day Team.
I am honored to be one of the key organizers of this local NPF Moving Day event. Many of you have supported me for the last few years and I hope you will consider doing so again this year on the 5th anniversary of our event.
The name of the team is '" Allen Tate Realtors: Moving You Home! Come walk with us! The event this year will be on Sunday, October 1, 2017 once again at the beautiful Koka Booth Amphitheatre in Cary. It is an incredible setting and one that will amaze you! We will have literally hundreds (last year we had almost 2000 people attend!) of Triangle folks gathered to support each other, walk around the lake, dance to the music, take a yoga class, enjoy the wonderful food and take advantage of the many tents filled with Parkinson' s information from drug companies, caregivers, hospitals and of course our treasured Duke/UNC and NC State connections!
The day is one filled with great purpose and festivities for all! Bottom line is we want to help those with Parkinson' s in our area live with the disease better on a daily basis. All funds from our Moving Day walk go to local Parkinson' s Groups.
Please consider being a part of my team or sponsoring me, and I encourage you to get your friends, family and coworkers involved. The more the merrier'¦help us celebrate the importance of movement in our lives!
Thank you in advance for anything you can do to help me reach my fundraising goal and assisting me to support the vital work of the National Parkinson Foundation! With your help maybe one day folks like my Dad will not have to suffer from this dreaded disease.
A huge heart felt thank you'¦
Robin and the Reingold/Donegan families