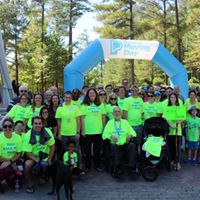 Team Captain
I made a personal donation!
I earned a Moving Day T-shirt!
Event:
I have to admit that I considered not convening the Rock the Park Team again this year.   I am not planning to beat last year's team that won the award for the largest team.  And what a great team it was.  It was especially great because it was also my birthday.  Unfortunately, I wasn't walking and talking too well and had to pushed around in a wheel chair and had to have David talk for me.  Although I am probably worst off this year,   I am taking new treatments that are actually helping me to get along as well or better that last year.  I have two tubes going into my stomach – one for feeding and one for a medication (Duopa).  I participating in Moving Day NC Triangle, benefiting the Parkinson's Foundation, on Saturday, November 3, 2018, at the Midtown Park at North Hills in Raleigh, NC.
The event will be a fun-filled, family-friendly event for all ages and abilities. We will be able to enjoy a variety of movement activities yoga, dance, Pilates, Tai Chi, boxing, stretching and much more and celebrate the importance of movement in our lives.
Please consider being a part of my team or sponsoring me, and I encourage you to get your friends, family and coworkers involved.
Thank you for helping me reach my fundraising goal to support the vital work of the Parkinson's Foundation.
Why Move for Moving Day?
Did you know that someone is diagnosed with Parkinson's disease every 9 minutes in the United States? No one should have to face Parkinson's alone. That is why the Parkinson's Foundation provides a community of support to give people the resources and help they need to live well with Parkinson's.
Support our mission to help every person diagnosed with Parkinson's live their best possible life now. Your gift will help us fund better research, better treatment and better lives.