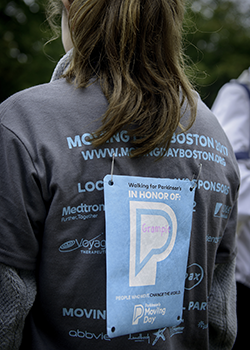 Hello Everyone,
Thank you for participating in team ROCK THE PARK. I am looking forward to seeing you all again this year. For those who are newcomers to the team, please let me start off by saying welcome & THANK YOU from our family. I will make it a point to meet each of you personally because those words do not do justice for the gratitude our family has for the love and support you give to my father.
Last year I was asked by a friendly volunteer at the registration booth "who are you walking for today? I remember mentally fumbling over my thoughts thinking of a way that I could possibly explain exactly the man I was walking for. Luckily, one of my more charismatic buddies with me interjected quickly, proudly saying " WE'RE WALKING FOR THE ROCK!". We both smiled, got our Tshirts and rubberband then shuffled out the line. I share that moment because its a reflection of significance. I was walking for my mentor, my role model, my inspiration, the man who always believes in me, who loves and encourages his family. I was walking for my hero. I was walking for my father.
This year is special, for many reasons.
Many of you know Jim Simons as a great friend, work colleague, fishing partner, neighbor, mentor, home brewmaster, swimming & diving enthusiast, a Taekwondo Black Belt, a man with great jokes with philosophical teachings, Bass Fishing author, Geologist a ear to listen too and a hand to help up or perhaps all of the above. It's important to understand there is much more.
First things first (Our family behind the scences): Mom (Pat Simons), Thank you for supporting, encouraging and loving my Dad. The compassion and loyalty you showed exemplified the phrase "behind every good man is a great women". Dad loves you with all of his heart.
Ashley(Simons-Rudolph), Thanks for paving the way big sis!! You have so many of Dad's good qualities that you've made your own, I'm so proud to call you my sister. Dad always speaks so highly of you and its well deserved. You are a role model. You have an amazing family and no doubt its an attribute to your kindness and love.
Kristin (Simons) , my beautiful wife. I love you. Thank you for everything you are and do for our family.
Jackson James (Simons), my son, my everything. You are loved by so many. Including your Grandpa Rock who loves you dearly. Your mother and I love you more than anything.
For those of you who have worked with my father… I want you to know he appreciate's you, unconditionly. When I was young I remember my father being awarded for a particular job well done and his first response to his superior was how impactful his co-workers were and had it not been for the teams hard work and influence his accolade would not have been. There would be many examples alike throughout his career in which he taught me that a talented leader becomes great because they respect the skills of others but more importantly respects them as individuals.
To my friends:
Your support for my father means more to me than I can express. Please know Jim is so apprective and humbled by your involvment year in and year out. My father is looking forward to seeing you all Oct 1!
To All:
The dedication you show to my father is unparalleled. You keep his spirits high and his heart full. For this I am forever greatful.
Dad:
I respect you for the man you are and I love you for the father you will always be. Do you remember that ground ball I fielded at shortstop in little leauge to win the championship game? the entire team huddled around the pitchers mound to jump and celebrate but I ran straight to you. How about when I walked the graduation stage after I finished college? everyone was high fiving classmates but I ran straight to you. Do you remember when you were awarded the Long Leaf Pine Award at your retirement and all your colleagues were shaking your hand… I ran straight to you. Each time you told me how proud you were of me but Dad I want you to know I was the one who was proud. Proud to be your son.
David