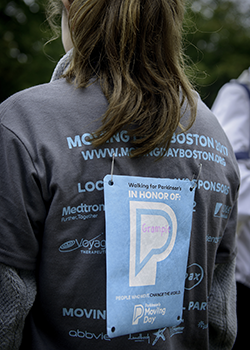 In 2015, my mother Mary Mastrolia was diagnosed with Parkinson's Disease. Throughout the process of her diagnosis and her treatment, the National Parkinson Foundation has provided numerous invaluable resources, regarding both the disease itself and how to handle life with Parkinson's. Every year we walk to show support for the NPF, everything they've done for my mother and other PD patients, and everything they will do in the future.
Please help us raise money for the NPF to use in Parkinson's research so they can improve treatment and one day solve PD. Thank you for helping me reach my fundraising goal to support the vital work of the National Parkinson Foundation.
Why Move for Moving Day?
Did you know that someone is diagnosed with Parkinson's disease every 9 minutes in the United States? No one should have to face Parkinson's alone. That is why the National Parkinson Foundation provides a community of support to give people the resources and help they need to live well with Parkinson's.
Support our mission to help every person diagnosed with Parkinson's live their best possible life now. Your gift will help us fund better research, better treatment and better lives.