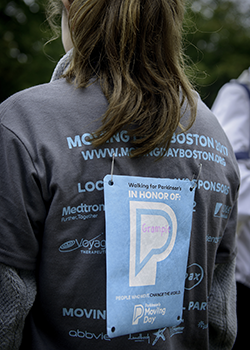 Team Captain
I made a personal donation!
I earned a Moving Day® T-shirt!
$1,000 Level Fundraiser
Event:
A very special thank you to Rafi's friends and loved ones who are donating to our team fundraising efforts in honor of his birthday! We are so thankful for your donation of any size.
Every nine minutes someone is diagnosed with Parkinson's disease. a long-term degenerative disorder of the nervous system that affects movement. Raising money for Parkinson's research and awareness is a cause that I care deeply about; Valerie's mother is a Parkinson's patient.
We created these exclusive Jamberry nail wraps as part of my Moving Day NC Triangle fundraising efforts to collect $1500 for the National Parkinson's Foundation (NPF).
Info: http://www.manicurerehab.com/parkinsonswraps
Order: https://manicurerehab.jamberry.com/us/en/shop/products/nas-1383848
Approximately 25% ($4.80) of the cost of each sheet is tax-deductible and will be donated directly to NPF.
Jamberry nails are latex-free wraps for your nails that come in hundreds of patterns and colors. They use a combination of pressure and heat to create a water-tight seal that adheres the wrap directly to the nail, giving you a worry-free manicure in as little as 15 minutes. Your Jamberry wraps are free of latex and harsh chemicals, have no smell, no drying time, and last up to two weeks on your hands and over six weeks on your feet. Best of all, each sheet of wraps provides enough wraps for two manicures and two pedicures!
________________________________
I am fundraising for Moving Day® NC Triangle, benefiting the National Parkinson Foundation, on Sunday, October 1, 2017, at Koka Booth Amphitheatre.
The event will be a fun-filled, family-friendly event for all ages and abilities. We will be able to enjoy a variety of movement activities yoga, dance, Pilates, Tai Chi, boxing, stretching and much more and celebrate the importance of movement in our lives.
Please consider being a part of my team or sponsoring me, and I encourage you to get your friends, family and coworkers involved.
Thank you for helping me reach my fundraising goal to support the vital work of the National Parkinson Foundation.
Honor Roll
Aunt Lynne and Uncle Dave
Aunt Corky and Uncle Morty
Barbara Meranus & Al Weiss
Joel and Harriet Glassman
Valerie, Matthew, and Rafi Glassman
Roberta and Lou Rosenberg