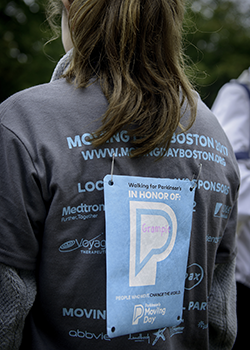 Team Captain
I earned a Moving Day T-shirt!
Event:
Welcome to my Moving Day® Page!
In the United States, 50,000-60,000 new cases of Parkinson's disease (PD) are diagnosed each year, adding to the one million people who currently have PD. roughly 10 percent of these one million people are under the age of 50. This growing number of people are referred to as hnumberaving Young onset Parkinson's disease (YOPD).
Jason Sullivan, the captain of team "Dazed and Confused" was diagnosed in 2016 with YOPD at the age of 34. As a young husband, and father of 2 he was forced to reevaluate his future, and prepare himself and his family for the life long journey this disease has put in front of them. The goal of team "Dazed and Confused" is to raise awareness of the unique circumstances people with YOPD face having this disease so early in life.
Join our team for the local Parkinson's Foundation Moving Day walk, the first nationwide grassroots campaign that spotlights the disease on a national level and gives the chance to raise awareness and funds in our own community. Your support will help us continue improving the quality of care for those living with Parkinson's disease.
– To become a member of our team please select the 'Join The Team' button at the top or bottom of the page.
– To donate or visit a team members personal page please select from the 'Team Members' list at the bottom of the page.
Honor Roll
Mariah Green,Sean Stewart