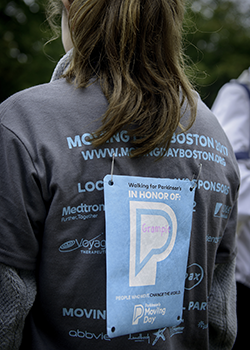 Team Captain
I earned a Moving Day T-shirt!
Event:
Hello All, I am participating in Moving Day® North LA, benefiting the National Parkinson Foundation, on Saturday, April 28, 2018, at Valencia Heritage Park in Santa Clarita.
The event will be a fun-filled, family-friendly event for all ages and abilities. We will be able to enjoy a variety of movement activities yoga, dance, Pilates, Tai Chi, boxing, stretching and much more and celebrate the importance of movement in our lives.
I have participated in three Moving Day LA events within the last two years. The reason for me continuing to be involved in this event is that in the summer of 2014 I was diagnosed with being in the beginning stages of Parkinson's Disease. One of the things that I learned in my research regarding Parkinson's Disease is that movement is crucial to lessening the effects of the disease and perhaps even turning around some of the symptoms.
I realize as I look back now, there were symptoms that were present prior to my diagnosis three years ago. Since my diagnosis, the symptoms have gradually become more noticeable and some things have been very difficult to do. The truth is I am retiring from work earlier than anticipated due in part to some of the difficulties I have had with Parkinson's Disease.
The work of the National Parkinson's Foundation is very important to me personally. Therefore, this event is also very important to me personally. Please consider joining team "Motivated to Move" and walking or running with us at the Moving Day LA event on Saturday, April 28, 2018 in Santa Clarita. If you are unable to join us, a donation of any amount would be greatly appreciated!
Why Move for Moving Day?
Did you know that someone is diagnosed with Parkinson's disease every 9 minutes in the United States? No one should have to face Parkinson's alone. That is why the National Parkinson Foundation provides a community of support to give people the resources and help they need to live well with Parkinson's.
Support our mission to help every person diagnosed with Parkinson's live their best possible life now. Your gift will help us fund better research, better treatment and better lives.
Thank you for your consideration of joining Team Motivated to Move on April 28, 2018 or any donation that you may be able to give!
Jon