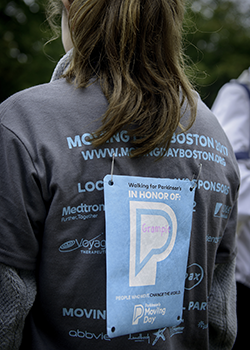 I made a personal donation!
I earned a Moving Day T-shirt!
$500 Level Fundraiser
Event:
September 6th, 2018
Dear Friends and Family,
I recently decided to participate in the Parkinson's Foundation Moving Day Rochester, NY event on Sunday, September 30, 2018 at Monroe Community College.
The walk will be a celebration of movement, with a special Movement Pavilion featuring variety of activities such as yoga, dance, Pilates, Tai Chi, boxing, stretching and much more to celebrate the importance of movement in our lives.
It will be a fun-filled, family-friendly event for all ages and abilities and will help raise money for the Parkinson's Foundation Greater Rochester Chapter.
With your support we can help the foundation's mission to make life better for people living with Parkinson's disease through expert care and research. I know you understand the importance of an event that raises money for such an important cause.
No matter what you can afford, every dollar counts! So please make a donation on my behalf. You can also join Michael, Don and me at for the Moving Day Walk on September 30.
Thank you so much for all of your support!
Sincerely,
Barbara Lohr
Click here to visit my personal page. If the text above does not appear as a clickable link, you can visit the web address: http://www3.parkinson.org/site/TR?px=1113038&pg=personal&fr_id=2793&et=ghuXsBwRvXbdXjYEH0F-VA&s_tafId=32404
If you no longer wish to receive email messages sent from your friends on behalf of this organization, please click here
Honor Roll
Benny and Lizzie and Lucy
John and Maxine Nicholson
Peter and Marie Duenkelsbuehler
R. Peter & Elisabeth Hurley