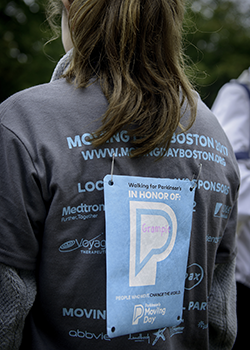 I earned a Moving Day T-shirt!
$5,000 Level Fundraiser
Event:
I will be walking in this years' Parkinson's Foundation Moving Day on Sunday September 30 at MCC and I am asking friends and family to consider making a contribution to the Parkinson Foundation in honor of everyone fighting Parkinson's Disease. Your donation will be used to fund research into better therapies for PD as well as to provide support for people with PD.
Thank you,
Dan
Honor Roll
Kate Cerulli and Chris Thomas
Joyce and Victor Poleshuck
Will & Elizabeth Richmond
Craig and Siobhan Wittlin
Joe and Miriam Carmichiel