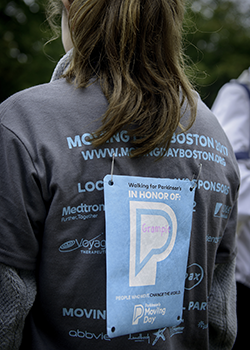 Team Captain
I made a personal donation!
I earned a Moving Day T-shirt!
$1,000 Level Fundraiser
Event:
Hi!
Thanks for coming to my page and checking out my fight against Parkinsons! Any information you can spread about the event and every dollar you donate helps towards finding a cure for Parkinsons and working towards helping the people and families that are influenced by it. I was first introduced to Parkinsons when my mother was diagnosed a couple years ago. She's been working hard to stay active and moving ever since and I'm so impressed and proud of the commitment that she has made to staying healthy. I work on a unit at Rochester General Hospital that often has patients with Parkinsons. When they are admitted I see their every day struggles and I want to find a cure for them and for my mom. Volunteering for the Parkinson's Foundation is something very near and dear to me and I cant wait for Moving Day!
This event that we are raising money for is to bring everyone together to walk for the cause and the donations go to research and helping people with Parkinsons live their best lives. It is also a fun event with auctions, simulations, snacks and things to do for the whole family.
Thanks again!
-Aubrianna
Honor Roll
Beth Tremblay and Bill Painter