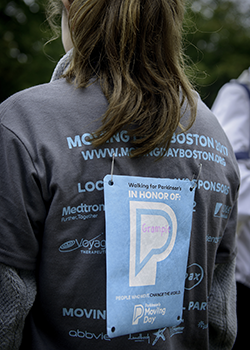 Team Captain
I earned a Moving Day T-shirt!
$250 Level Fundraiser
Event:
Jacqulyn (Jackie) Kay Benge, age 86,  passed away peacefully in her home in Orangevale, CA on April 2, 2019 after a long battle with Parkinson's Disease and PD related dementia. She was the wife of Vern Benge.  They shared over 69 years of marriage together. 

Born in Pomona, Kansas, she was the daughter of Clyde and Lucille (Welch) Rice.  When Jackie was a teenager her family moved to Orangevale.  She attended San Juan High School in Citrus Heights where she met Vern.  They were married on July 19, 1949. 

She was a member of Redeemer Covenant Church in Orangevale where she was involved in many church functions and outreaches over the years.  She enjoyed a variety of activities and hobbies which included crocheting, sewing, quilting, scrapbooking, square dancing, bowling,  camping and fishing with friends and family, including children, grandchildren, & great grandchildren. 

She is survived by her husband Vern Benge,  sister Shirley Claudeen Smith, daughter Verna Schooley (Bob), Sons Clyde Benge and Kevin Benge. Grandchildren:  DeAna Schooley, Emilee Key (Jason), Kelli Poindexter (Jason), Tyma Benge, Amber Riccobuano (Mike), Erin Fackler (Forrest),  and Chris Benge.  Great grandchildren:  Courtney Rosenkrans (Joseph), Ethan Turner,  Rylie Poindexter, Alexander Alfiere, Natalie Kelly, Carsen Riccobuano, Zoey Fackler, and Leeland Fackler. 

She was predeceased by sister Nancy Popejoy, great granddaughter Kaycie LeeAnn Turner, and great grandson Payton Gabriel Kelly. 

Jackie was loved by and will be missed by all who knew her.  She will be remembered for her love for her Lord, love for her family and friends and her concern for those in need and less fortunate.   
#Parkinsonsawareness #Parkinsons
#SupportParkinsons I am participating in Moving Day® Sacramento, benefiting the Parkinson's Foundation, on Sunday, May 5, 2019 at American River College – Lot A.The event will be a fun-filled, family-friendly event for all ages and abilities. We will be able to enjoy a variety of movement activities like yoga, dance, Pilates, Tai Chi, boxing, stretching and much more and celebrate the importance of movement in our lives.Please consider being a part of my team or sponsoring me, and I encourage you to get your friends, family and coworkers involved.Thank you for helping me reach my fundraising goal to support the vital work of the Parkinson's Foundation.Why Move for Moving Day?Did you know that someone is diagnosed with Parkinson's disease every 9 minutes in the United States? No one should have to face Parkinson's alone. That is why the Parkinson's Foundation provides a community of support to give people the resources and help they need to live well with Parkinson's.Support our mission to help every person diagnosed with Parkinson's live their best possible life now. Your gift will help us fund better research, better treatment and better lives.
Honor Roll
Jacquie and Chuck Houghten