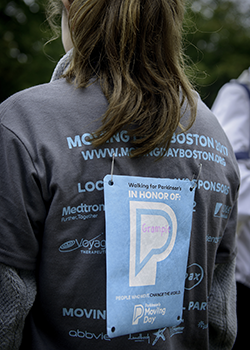 I made a personal donation!
I earned a Moving Day T-shirt!
Event:
Hey Everyone,
As many of you know, I am currently helping some wonderful individuals fight back against a disease that gradually tries to take that ability away. For those of you that don't know, I am talking about Parkinson's disease. Parkinson's disease is a degenerative movement disorder which can cause deterioration of motor skills, balance, speech and sensory function.  Did you know that someone is diagnosed with Parkinson's disease every 9 minutes in the United States? I didn't know either. Did you know that no case looks the same and that it effects each person differently? Did you know that while there isn't a cure for this disabling disease, there are ways to fight back and strengthen oneself against the effects and the possible threats of injury.
So how do we fight back, you might ask. Various studies in the 1980s and 1990s supported the notion that rigorous exercise, emphasizing gross motor movement, balance, core strength, and rhythm, could favorably impact range of motion, flexibility, posture, gait, and activities of daily living. More recent studies, most notably at Cleveland Clinic, focus on the concept of intense "forced" exercise, and have begun to suggest that certain kinds of exercise may be neuro-protective, i.e., actually slowing disease progression [R.S.B.Org]. I am currently volunteering in a program called Rock Steady Boxing. We put together workouts that promote and strengthen core, stability, mobility, exercise cognitive function and bring out the fighter in our participants.
While still new on this journey, I have already met some very dedicated and passionate fighters that make me proud to be a part of this team. These individuals go above and beyond teaching, they reach out as far as they can throw and pull in those that need this more than they know. They are not just throwing punches here, they stay informed, train their participants to fight, but also how to take a fall, strengthening them against their opponent, Parkinson's.
So now you all may be wondering why I am sharing all of this and I am getting to that. The first reason is to invite anyone who may be interested or knows someone who might be interested to participate in a fun filled event, Moving Day® Sacramento, benefiting the Parkinson's Foundation, on Sunday, May 5, 2019 at American River College – Lot A.
The event will be a fun-filled, family-friendly event for all ages and abilities. You will be able to enjoy a variety of movement activities like yoga, dance, Pilates, Tai Chi, boxing, stretching and much more and celebrate the importance of movement in our lives. Feel free to contact me or check out the event site for more information.
The other reason to reach out and see if anyone might be interested in helping this wonderful cause. The community goal is to find a cure. My goal is to raise $500 to help fund research for better treatment, better lives, perhaps a CURE!
So all of that said if you have any other questions or just miss my face feel free to contact me. Thank you for checking this out and Thank you for your support in me and my mission.
Sincerely,
Nese