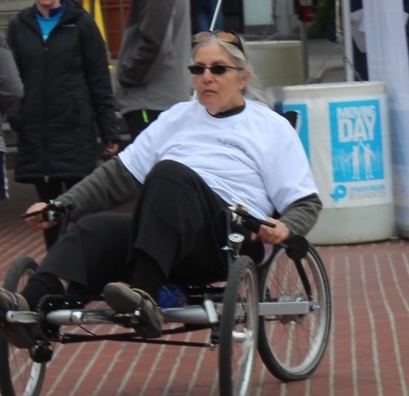 I made a personal donation!
I earned a Moving Day T-shirt!
Event:
MY PERSONAL STATEMENT: Parkinsons' is a highly variable disease — the saying is that if you know one person with Parkinsons', you know ONE person with Parkinsons'. If I'm you one person, maybe it doesn't look that bad; but consider Linda Ronstadt, who no longer sings because of the tremor in her vocal cords. Michael J. Fox, who still performs, but in a carefully chosen and very limited selection of roles. The late and sorely missed Robin Williams, who might have worked around the obstacles to his very physical form of comedy but was overcome by the terrifying hallucinations of Lewy Body Dementia, a rare but devastating co-morbidity. Since there's no single established cause for PD, it's difficult to develop a cure — but with the research Moving Day and similar efforts have already funded, the Prakinsons Foundation is making life more bearable for the 1.5 million of us in the U.S, and the 7 to 10 million worldwide. Please think about contributing — call it a birthday present (I turn 71 the day before the Walk.) and May the Fourth be with you — THE BOILERPLATE: I am participating in Moving Day San Francisco, benefiting the Parkinson's Foundation, on Sunday, May 5, 2019 at Embarcadero Plaza. The event will be a fun-filled, family-friendly event for all ages and abilities. We will be able to enjoy a variety of movement activities like yoga, dance, Pilates, Tai Chi, boxing, stretching and much more and celebrate the importance of movement in our lives. Please consider being a part of my team or sponsoring me, and I encourage you to get your friends, family and coworkers involved. Thank you for helping me reach my fundraising goal to support the vital work of the Parkinson's Foundation. Why Move for Moving Day? Did you know that someone is diagnosed with Parkinson's disease every 9 minutes in the United States? No one should have to face Parkinson's alone. That is why the Parkinson's Foundation provides a community of support to give people the resources and help they need to live well with Parkinson's. Support our mission to help every person diagnosed with Parkinson's live their best possible life now. Your gift will help us fund better research, better treatment and better lives.