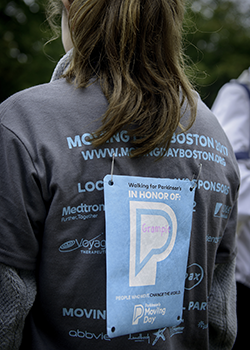 Team Captain
I made a personal donation!
I earned a Moving Day T-shirt!
$1,000 Level Fundraiser
Event:
I was diagnosed with Parkinson's Disease (PD) in 2014. In case you're not familiar with PD, it's a disorder of the central nervous system. In the very deep parts of the brain, there is a collection of nerve cells that help control movement, known as the basal ganglia.
In a person with PD, these nerve cells are damaged and do not work as well as they should. These nerve cells make and use a brain chemical called dopamine to send messages to other parts of the brain to coordinate body movements. When someone has PD, dopamine levels are low. So, the body doesn't get the right messages it needs to move normally.
A person with PD gradually loses the ability to totally control body movements.Once you have PD, no one day is the same. The disease is a degenerative one, and there is no cure (yet). However there is medicine to help alleviate the symptoms. However there are some tough side-effects that come with it.
I am virtually participating in Moving Day® San Francisco, benefiting the Parkinson's Foundation, May 5, 2019. The event celebrates the importance of movement in our lives. Please consider being a part of my team or sponsoring me.
Thank you from the bottom of my heart for helping me reach my fundraising goal to support the vital work of the Parkinson's Foundation.______________________
Why Move for Moving Day?
Did you know that someone is diagnosed with Parkinson's disease every 9 minutes in the United States? No one should have to face Parkinson's alone. That is why the Parkinson's Foundation provides a community of support to give people the resources and help they need to live well with Parkinson's.
Support our mission to help every person diagnosed with Parkinson's live their best possible life now. Your gift will help us fund better research, better treatment and better lives.
Honor Roll
Annie (Annie) Benitez Pelaez
Mr. Bharadwaj Tallapragada