Alicia Benvenuto - CBSi Team
Donate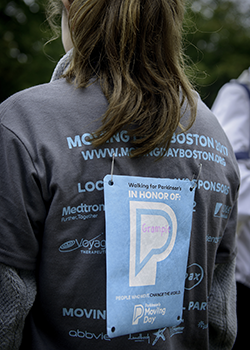 Team Captain
I made a personal donation!
I earned a Moving Day T-shirt!
$1,000 Level Fundraiser
Event:
Nearly 10 years ago, my mother was diagnosed with Parkinson's Disease. She's the greatest person on this planet. I'm not even saying that because she's my own mother, it's just true. Anyone who's ever met her would probably agree with me. She's kind beyond words. Her patience is incomparable. Most incredibly, I cannot think of a time that I've ever heard her complain…about anything! Even after her diagnosis and continuous battle with this disease, she is ever so grateful for life on this planet.
I wish more people, including myself, were like her. And I wish she didn't have to manage this disease. I joined Parkinson's Foundation as a volunteer to better understand PD, the research dedicated to finding it's cure, and how to improve the lives of those living with it. On May 5th, I'm participating in Moving Day SF to benefit the Foundation, and I'm grateful for any support you can offer.
Thank you! Alicia
Background on Moving Day!
The event will be a fun-filled, family-friendly event for all ages and abilities. We will be able to enjoy a variety of movement activities like yoga, dance, Pilates, Tai Chi, boxing, stretching and much more and celebrate the importance of movement in our lives.
Why Move for Moving Day?
Did you know that someone is diagnosed with Parkinson's disease every 9 minutes in the United States? No one should have to face Parkinson's alone. That is why the Parkinson's Foundation provides a community of support to give people the resources and help they need to live well with Parkinson's.
Support our mission to help every person diagnosed with Parkinson's live their best possible life now. Your gift will help us fund better research, better treatment and better lives.
Honor Roll
Jessica Hagstrom & Steve Glass
CBSi iCares Team Donations
Emily, Larry, & Spencer Lejfer