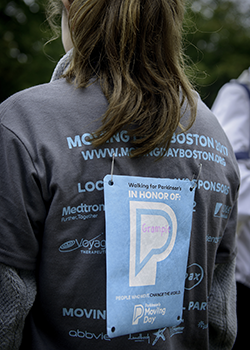 I made a personal donation!
I earned a Moving Day T-shirt!
Event:
I have been involved with SF Ballet's dance class for people with Parkinsons Disease. We take dance class twice a week at SF Ballet studios sponsored by SF Ballet, and through the direction of Kaiser Permanente. Modeled after the Dance for PD® classes developed by the Mark Morris Dance Group and Brooklyn Parkinson Group and designed specifically for individuals with Parkinson's Disease and their spouses, family members, friends, and caregivers. These classes integrate ballet, modern, folk, and improvisation to engage in an experience that will develop individual artistic expression while honoring PD-specific concerns such as balance, flexibility, coordination, isolation, and depression.We are participating in Moving Day® SF, benefiting the Parkinson's Foundation, on Sunday, May 5, 2019 at Embarcadero Plaza. The event will be a fun-filled, family-friendly event for all ages and abilities. We will enjoy a variety of movement activities like yoga, dance, Pilates, Tai Chi, boxing, stretching and celebrate the importance of movement in our lives.Please consider being a part of my team or sponsoring me. Thank you for helping me reach my fundraising goal to support the vital work of the Parkinson's Foundation. Why Move for Moving Day? Did you know that someone is diagnosed with Parkinson's disease every 9 minutes in the United States? No one should have to face Parkinson's alone. That is why the Parkinson's Foundation provides a community of support to give people the resources and help they need to live well with Parkinson's. Support our mission to help every person diagnosed with Parkinson's live their best possible life now. Your gift will help us fund better research, better treatment and better lives.