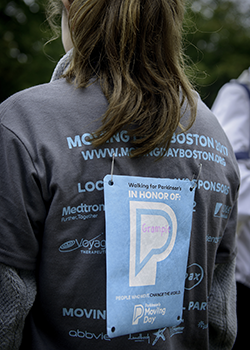 Team Captain
I made a personal donation!
I earned a Moving Day T-shirt!
$1,000 Level Fundraiser
Event:
I wanted to say thank you for those who supported me and our Rock Steady Fighters team last year. Your donations went right back into the community for Parkinson's research and support. I saw this first hand through being a part of the Moving Day Grants Review Panel! I am even more excited for the San Jose Moving Day 2018 than I was last year! Our team is bigger and stronger this year and destined for a successful campaign. As part of the team, I plan on making the 160 Push-ups for Parkinson's an annual campaign during April's Parkinson's Awareness Month. Last year the campaign wasn't easy but neither is our daily battle with Parkinson's. I will start the push-ups on April 1st with 160 push-ups, followed by 160 every day for the whole month, 4800 push-ups in total. I will post videos daily showing my progress. Please click on the donate link if you would like to support my campaign and help provide support and research for Parkinson's Disease.
Here is the link to last years compilation of the 160 push-up campaign. Enjoy
_____________________________________________________________________________________________________________
I am participating in Moving Day® San Jose, benefiting the Parkinson's Foundation, on Saturday, June 2, 2018, at Evergreen Valley College.
The event will be a fun-filled, family-friendly event for all ages and abilities. We will be able to enjoy a variety of movement activities yoga, dance, Pilates, Tai Chi, boxing, stretching and much more and celebrate the importance of movement in our lives.
Please consider being a part of my team or sponsoring me, and I encourage you to get your friends, family and coworkers involved.
Thank you for helping me reach my fundraising goal to support the vital work of the Parkinson's Foundation.
Why Move for Moving Day®?
Did you know that someone is diagnosed with Parkinson's disease every 9 minutes in the United States? No one should have to face Parkinson's alone. That is why the Parkinson's Foundation provides a community of support to give people the resources and help they need to live well with Parkinson's.
Support our mission to help every person diagnosed with Parkinson's live their best possible life now. Your gift will help us fund better research, better treatment and better lives.
Honor Roll
Pion, Nerone, Girman Winslow & Smith
Impax Laboratories / William(Bill) Winslow
Monterey Bay Power Over Parkinson/'s