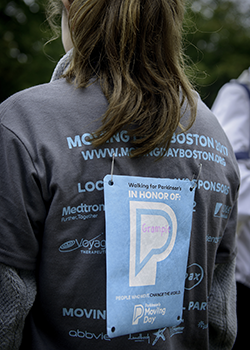 Team Captain
I made a personal donation!
I earned a Moving Day T-shirt!
$2,500 Level Fundraiser
Event:
Hi there!
I am so excited to participate again in the Parkinson's Foundation Moving Day® San Jose event on Saturday, June 2, 2018. The money raised from the walk goes toward research and – my favorite part – a portion of the money raised comes directly back to our local community to help fund new community programs for people with Parkinson's disease. THAT's why I love this fundraiser. Last year, my team Team Synaptic Fantastic came in #3 for fundraising in the corporate teams category – wow! Let's see if we can do it again this year!!! Would you consider joining my team – the more people the merrier – and help the foundation to strive forward with its mission? I need people like you on my team. Someone who understands the importance of participating in an event that raises money for such an important cause.
The walk will be a celebration of movement, with a special Movement Pavilion featuring yoga, dance, boxing, PWR! Moves, and much more. This walk holds a special place in my heart – I have volunteered as chair of the planning committee for the past 3 years and my role is to bring together exercise instructors from all over the community to have exercise demonstrations in our Movement Pavilion. Moving Day® will be a fun-filled, family-friendly event for all ages and abilities and will help the National Parkinson Foundation raise money to make life better for people living with Parkinson's disease through expert care and research.
I need your support so please do anything you can – join my team, make a donation above, or even register yourself as an individual or team.
Thank you so much for all of your support, and I look forward to seeing you at Moving Day® on Saturday, June 2, 2018.
Sincerely,
Theresa
========================
Why Move for Moving Day®?
Did you know that someone is diagnosed with Parkinson's disease every 9 minutes in the United States? No one should have to face Parkinson's alone. That is why the Parkinson's Foundation provides a community of support to give people the resources and help they need to live well with Parkinson's.
Support our mission to help every person diagnosed with Parkinson's live their best possible life now. Your gift will help us fund better research, better treatment and better lives.
Honor Roll
Adaptive Physical Education