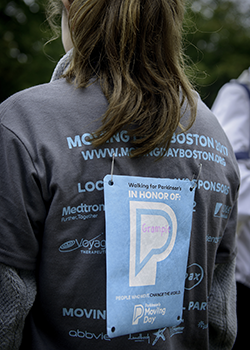 I made a personal donation!
I earned a Moving Day T-shirt!
$500 Level Fundraiser
Event:
Hello Family and Friends,
I am participating in Moving Day® San Jose, benefiting the Parkinson's Foundation, on Saturday, June 1, 2019 at Evergreen Valley College. As most of you know I was diagnosed with Parkinson's in 2016. I continue to exercise and keep moving as much as possible. I am now participating in Rock Steady Boxing 4-5 times a week. It's more then just an exercise program, it's also a therapy and community of people who all have the same disease in different stages encouraging each other not to give up the fight. It's where I feel most comfortable when my body starts to shake, and no one is staring. My new normal. I encourage you to come out and walk with me and my team Rock Steady Fighters.
Come out and enjoy a variety of movement activities like yoga, dance, Pilates, Tai Chi, boxing, stretching and much more and celebrate the importance of movement in our lives.
Your support means so much to me so please do anything you can. Join my team, make a donation on my behalf. No matter the amount every dollar counts.
Thank you so much for all your support, and I look forward to seeing you at Moving Day on June 1.
Peace and love,
Corrie
Go Rock Steady Fighters!
Why Move for Moving Day?Did you know that someone is diagnosed with Parkinson's disease every 9 minutes in the United States? No one should have to face Parkinson's alone. That is why the Parkinson's Foundation provides a community of support to give people the resources and help they need to live well with Parkinson's.