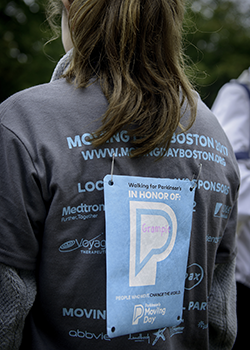 I made a personal donation!
I earned a Moving Day® T-shirt!
$1,000 Level Fundraiser
Event:
I am participating in Moving Day® San Jose, benefiting the Parkinson's Foundation, on Saturday, June 2, 2018, at Evergreen Valley College.
This will be my second year participating with many more to come. As someone who has Parkinson's and all the challenges it brings this is the least I can do to bring awareness to this disease. I do what I can to keep my Parkinson's in check as there is NO cure for this neurological disease. Exercise and medication is what they recommend to treat the symptoms of Parkinson's. I workout as much as possible including four days a week at Rock Steady Boxing. This program has definitely helped me in both exercise and therapy, knowing I'm not the only one and being around people just like me. It doesn't matter the age differences we're all in it together.
The most important thing I can tell you about Parkinson's is that it takes a little bit away from me everyday. You may see me and think, hey Corrie looks great, but really I'm changing daily.
Please consider being a part of my team or sponsoring me, and I encourage you to get your walking shoes on and walk with me at Moving Day San Jose. People who move change the world.
Thank you,
Corrie
Thank you for helping me reach my fundraising goal to support the vital work of the Parkinson's Foundation.
Why Move for Moving Day®?
Did you know that someone is diagnosed with Parkinson's disease every 9 minutes in the United States? No one should have to face Parkinson's alone. That is why the Parkinson's Foundation provides a community of support to give people the resources and help they need to live well with Parkinson's.
Support our mission to help every person diagnosed with Parkinson's live their best possible life now. Your gift will help us fund better research, better treatment and better lives.
Honor Roll
Five Payasos, Inc. - Pet People of Los Gatos